"Agonypath" Series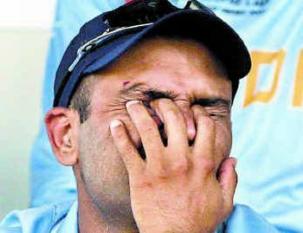 By Gaurang
January 7 2012
The marketing men of Indian TV had made a big hoo-haa about the India v. Australia series. Saying it always produced tough, combative, closely fought, cricket. They even roped in celebrities from the cricketing world such as Steve Waugh and Sourav Ganguly as well as Bollywood such as Sanjay Dutt to hype the series, calling it the "Agnipath" or "Trail of Flame" series, but after two highly one-sided whippings of the Indian team for most India fans it is more the "Trail of Shame" series.
The Warning signs were flashing in England last summer. No Indian batsman scored a century in any of the four Tests, except for Rahul Dravid. Indian fans comforted themselves by saying that the team was complacent after the World Cup win, and that there were mitigating circumstances, such as injuries to key players, and lack of proper preparation, etc.
This time in Australia none of those excuses are available. The team playing right now is the BEST Test team that India is capable of putting out there. Yet Dhoni and his men are getting their backsides kicked in spectacular fashion. And what is most galling to Indian cricket fans is that it seems there is no fight at all in the side. Instead the Indians are producing one lame excuse after another, including the hilarious explanation from Ravi Ashwin, as to why Dhoni was justified with such negative field placings so early in Australia's first and only innings in Sydney.
The only conclusions that a casual but keen observer of the team over the past decades can come up with, is that they have lost the heart, the hunger, the fire in the belly to fight it out. What is the root cause of this? Easy IPL loot? Even more easy World Cup Champions cash? Or could it be that youngsters in the team feel unappreciated as some seniors seem to have positions sewn up without any possibility of challenge, regardless of performance? Or is is due to lack of motivational skills of the Captain, who while personally cool and unflappable is being seen as something of a cold fish, who is not able to get the best out of his team, without the guidance of a master motivator like the previous coach Gary Kirsten. The new coach Duncan Fletcher has seemed more like an amiable equipment manager than a leader, strategist and International cricket coach.
It is hard to pinpoint the rot, but there is rot, no doubt. A team recently ranked No. 1 in Test cricket, and having showed great fighting abilities overseas not so long ago in South Africa and New Zealand, has now lost 6 Tests in a row overseas. And not just lost them, but been blown out of the water, not even competed, beaten hollow, in most cases.
At barely the half way point India have squandered any chance of winning the current series. They still have a faint chance of squaring the series and retaining the Border-Gavaskar trophy, as current holders, but it would literally take a miracle for that to occur. For the average Indian fan, this series may mark the end of the brief Golden Age of Indian Test cricket that started with Sourav Ganguly leading India to victory at home against the Juggernaut of Steve Waugh in 2000-01 and which may have began its crash landing with first the humiliating 0-4 thrashing in England last summer, and now confirmed by the "Agonypath" Series in Australia...