Ashwin Wins Sir Garfield Sobers Trophy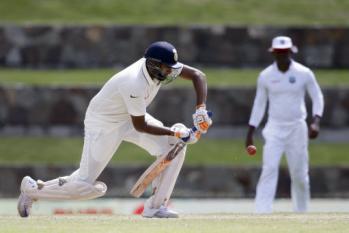 By Indian Cricket Fever
December 22 2016
Interestingly the voting period covered 8 Tests he played between September 2015 to September 2016... So the last 8 Tests against New Zealand and England were not even considered. The mind boggles to think that his numbers in the last 8 Tests are actually much better. Wow!!!
R Ashwin has become the third India player and 12th player overall to win the prestigious Sir Garfield Sobers Trophy after being named as the ICC Cricketer of the Year 2016.

Ashwin follows in the footsteps of Rahul Dravid (2004) and Sachin Tendulkar (2010), while other recipients of the Sir Garfield Sobers Trophy include Andrew Flintoff and Jacques Kallis (joint-winners in 2005), Ricky Ponting (2006 and 2007), Shivnarine Chanderpaul (2008), Mitchell Johnson (2009 and 2014), Jonathan Trott (2011), Kumar Sangakkara (2012), Michael Clarke (2013) and Steve Smith (2015).
Ashwin was also adjudged the ICC Test Cricketer of the Year, which has made him only the second India player after Dravid (2004) to bag the two coveted prizes in the same year. Kallis (2005), Ponting (2006), Sangakkara (2012), Clarke (2013), Johnson (2014) and Smith (2015) are the other players to annex both the awards in the same year.

"There are a lot of people to thank for this wonderful achievement I have made. It has been a great couple of years but this year has been even more special. What is very noticeable is the way I have bowled and batted and the way I have gone about doing my business. What is more important, as far as I am concerned, is the number of people who have gone behind my success.

"I'd like to dedicate this award to my family. I'd like to thank ICC and most importantly my team-mates. I'd also like to thank the support staff for our success. We've had a great transition ever since Mahendra Singh Dhoni hung up his boots. A young captain has taken over, we fell on the right track, and we now have a new bunch of boys."

ICC Chief Executive David Richardson congratulated Ashwin, saying: "It has been a memorable period for Ashwin, whose consistent all-round and match winning performances have been reflected in the MRF player rankings. He is justifiably now being counted among the best spinners of his generation.

"To win both the ICC Cricketer of the Year and ICC Test Cricketer of the Year awards is a major accomplishment. Ashwin's performances speak for themselves and he is a deserving recipient of the honours. I congratulate him on behalf of the ICC."

ICC Cricketer of the Year (Sir Garfield Sobers Trophy) – Ravichandran Ashwin (India)

ICC Test Cricketer of the Year – Ravichandran Ashwin (India)