Mahendra Singh Dhoni Steps Down as Limited Overs Captain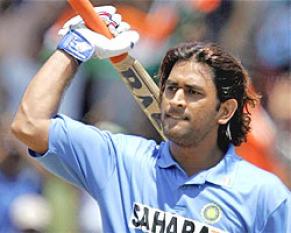 By Gaurang
January 5 2017
India's most successful captain in both the limited over and Test format has called it quits on captaincy. He remains available for selection as a specialist wicketkeeper batsman. This is indeed very noble of him, as even now there is nobody who can fill his quite enormous boots as keeper/batsman in the limited format. Virat Kohli the logical succesor to Dhoni will be grateful that he has decided to ease the transition. Like his Test retirement, this has been a low-key affair that has kept the team's needs in mind. This sums up the man.
In a career marked by personal achievement what stands out about Dhoni is that it is also marked by some terriffic TEAM win for India... starting with winning the first ever T20 world cup to winning the Champions trophy and the actual World Cup in 2011, along with taking India to No. 1 in the Test format, not to mention his leadership at the helm of the Chennai Superkings, the most successful franchise in the IPL.
As his moniker "Captain Cool" suggests he has been a paragon of calmness in the passion and chaos that surrounds indian cricket and especially the occupant of the Captain's chair. This attribute of mental toughness added to supreme fitness and immense strength has made him the ideal closer in the shorter format of the game. He has won umpteen run chases for India with his bat or set up immense tragets when India batted first with his Herculean hitting. The one or two dark spots on a career full of glittering moments, such as the back to back Test series whitewashes in England and Australia and the scandal surrounding the Chennai IPL franchise, were arguably more the fault of others, the selectors who persisted with over the hill seniors in the first instance, and an overbearing and ethically challenged owner in the person of N. Srinivasan in the later. These take nothing away from the greatness of the man or his contribution to Indian cricket.
That Bollywood decided to make a biopic on his life while he was still an active player last year, speaks volumes about the kind of following and stature he has achieved in Indian cricket. Not even legends Kapil Dev or Sachin Tendulkar have had their lives made into Bollywood movies, even after retirement, let alone while they were still playing.
One hopes that this break from the worries and stress of captaincy will allow him to concentrate on his wicketkeeping and batting albeit only in the limited overs format. If he does that, he may yet be the wind beneath Team India's wings for several years to come. True fans of Indian cricket will be thrilled if that were to occur.