Bangladesh Finally Make Their Indian Debut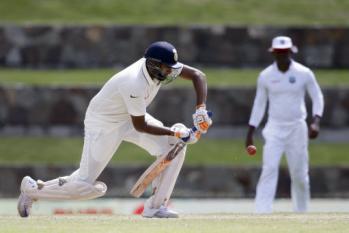 By Gaurang
February 3 2017
Contrary to some suggestions that India has snubbed Bangladesh by not hosting them for a Test series for over 16 years since their Test debut back in 2000, which incidentally occured versus India, the BCCI which was instrumental in getting Bangladesh Test status has been a benefactor for the Bangladesh cricket board all these years since.
The host country gets the lion's share of any TV rights money that a series brings...and by holding all bi-lateral series IN Bangladesh so far the BCCI has given the Bangladesh Cricket Board five chances at making a ton of money without once seeking the moolah itself. The expenses that the host nation bears in terms of venue preparation, hotels, etc. is mostly made up by the large crowds at the games and the TV money they get from hosting India is icing on the cake which probably pays for several years of board expenses each time India plays in Bangladesh.
Of course the largesse was not all from a sense of noblesse oblige by the BCCI. The BCCI would have had to compensate the Test center in India which hosted a India v. Bangladesh Test match, which in the past many were not ready to host because of the perceived one-sidedness of the contest and the consequent lack of crowds and gate receipts. Kolkata could have been an exception to this, but in any case now the Bangladesh team has shown that it can compete not just on tailor made turning tracks at home, but even on seaming tracks in places like New Zealand, so it will bring in the fans regardless of where it plays.
The historic first India v. Bangladesh Test, and it IS historic, despite the protests of the Bangladeshi skipper who insists it is just another game is set to be played in Hyderabad from February 9 -13. And who can blame Mushfiqur for taking this stance? He is just lowering the expectations of his fans, so that even a decent performance by his side, such as pushing India to the full five days will be seen as a great moral victory and if perchance India still cruise to a win, it will be just another match...no big deal.
This writer however feels that Bangladesh is likely to present as much of a challenge as England did recntly in Indian conditions. Bangladesh's spin bowling which is in the capable hands of the veteran all rounder Shakib al Hasan and the newbie Mehedi Hassan will be of top class. While their batsmen will be better at countering Indian spin than the Englishmen were. If the picth is more pace friendly Bangladesh will be challenged a bit more, especially since they will be missing their star pacer Mustafizur in this historic one-off Test.
The Test has much to offer and much for the Indian fan to look forward to, not the least the rivalry between the two best all rounders in Test matches today, in Ravi Ashwin and Shakib al Hasan, though Ravi Jadeja and Jayant Yadav may also have something to say about it. Anyway taking Bangladesh lightly is not recommended, and doing so may lead to an unexpected turning of the tables. Bangladeshi fans will be fervently hoping for that while Indian fans will be hoping that Virat keeps the winning streak going, not the least because India will next be facing Australia as they try and reclaim the Border Gavaskar Trophy.