India Boss Lanka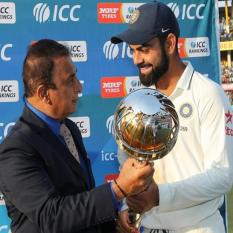 By Gaurang
August 15 2017
India emphatically showed why it is ranked the No. 1 Test team in the world, with a dominating performance in Lanka that totally bossed it over the hosts. it took just about 11 days to win the series 3-0 and each match was won by a HUGE margin.
While it is true that Sri Lanka are not the same team they were when they had all time greats like Murali, Sangakarra, Jayawardene, etc. in their ranks, they are still a very formidable unit that swept Australia 3-0 the last time they visited. India now have a team that has quality players and a quality bench for virtually every spot in the line up. From the opener's spot to the middle order to all-rounder spot, as well as wicket keeper and fast and spin bowling spots there are strong performers both in the playing eleven and on the bench. And under Kohli and apparently with more freedom than under previous coach Kumble the team is now a tighly knit unit that is enjoying playing with each other without too much pressure from the dressing room. This is showing in the dominating performance of the team where it has batted only four times versus dismissing the opposition six times, winnning each Test by a HUGE margin. Amazingly In no Test did Sri Lanka manage in two whole innings to score more than what India scored in its first innings. Sri Lanka were well and truly bossed by Kohli and his men.
Unfortunately the BCCI is still treating Test cricket in ad hoc manner and not making it the center piece of the Indian team's schedule. Thus the No. 1 Test team now doesn't play another Test match till almost the end of the year, instead concentrating on a bunch of Masala ODIs and T20s. It is truly to the credit of Kohli and his men that even with this lack of importance to Test cricket shown by the BCCI, they have dominated this format for nearly a year. India are now head and shoulders above the second ranked team South Africa and are slowly morphing into a team that may yet compare with some of the greatest of all time, such as Waugh's Australians or Lloyd's West Indians.
Of course the acid test will come when India plays away from the subcontinent and against teams that are more settled and likely to present tougher opposition both with bat and ball. But increasingly India seem to have all the basis covered. India, in the past, have had several batsmen rated in the ICC's Top 10 and even rated No. 1, but the heartening thing is that it now has the No. 1 and No. 3 rated Test bowlers and the No. 2 and No. 3 ranked Test all rounders while still having 4 batsmen in the Top 10.
For fans of Indian Test cricket the previous home season where they won every series winning 10 and losing only 1 out of 13 home Tests was like a dream come true...and hopefully the next few years could be the best of times when India finally conquers the final frontiers of South Africa and Australia with series wins in those southern nations.