Kohli: Results More Important Than Landmarks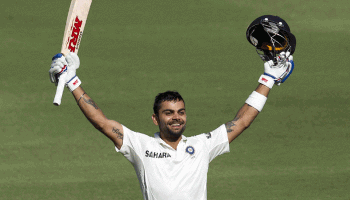 By Moulin Parikh
September 17 2017
The Indian captain is leading the team to new heights with his singular focus on results and an "un-Indian" attitude towards personal landmarks.
The world around his is obsessed with numbers. Every match he plays, numbers are thrown up leading to comparisons among the modern-day batting greats. When his numbers are analyzed the comparison does not last long as he is way ahead of the pack. Virat Kohli has staggering 47 international centuries. When it comes to most centuries, only Sachin Tendulkar is ahead.

As he spoke to the media ahead of the ODI series against Australia, he was even asked about the possibility of getting 100 hundreds. The Indian captain's answer may not have provided juicy headlines, but it certainly gave an insight into his methodology. Virat said he gives no extra attention to individual landmarks and thus ends up getting more hundreds. "I don't play for the three-figure mark maybe that's why I end up crossing it more times, because I am not thinking about it," he said on the eve of India's first ODI against Australia.

"So, I don't put myself under pressure in terms of 'I need to achieve a landmark'. For me what's most important is to win the match for the team. As I said before, even if I am 98 not out or 99 not out, I don't mind, as long as I win the game. In that process, things end up happening because you want to stay till the end."

He added that his goal has always been to stay till the end until the finish line is crossed. "If there is enough runs on the board, you end up achieving those landmarks, because you are thinking of that result, not about you reaching that landmark. Whatever time I play - eight years, 10 years, 12 years whatever it is - I will never think of that because it just doesn't come to me naturally. For me what's most important is how I can help the team win with the bat and in the field, giving my 120 percent every time I step onto the field and preparing accordingly."