We Ain't Going to Stanford It (Part 3of 6)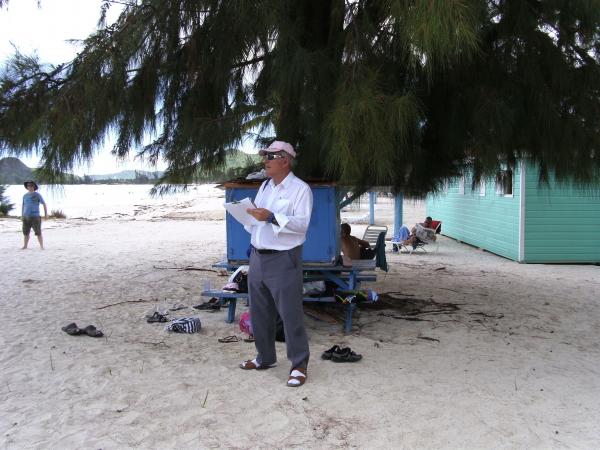 Stay cool Don
By Beefy
March 1 2016
Beefy reports on two games cricket. A farcical circus follows a game of beach cricket. We hear how Middlesex reputation overseas suffrered and was enhanced
We meet as arranged for breakfast, with all sorts of wildlife flying around as well. (Not referring to any humans in our party).
Straight after the first (and only!) game of beach cricket was sorted out. We had a bat and ball, no stumps no pitch. After finding 6 sticks, we got a pitch marked out on the beach, and just needed a scorer, who else but Don Shelley? Now Beefy, field in the deep please! No thanks, I can't swim!! OK then, I fielded on the beach side instead. The ball got lost and found a couple of times in the nearby rocks. Someone had damaged mobile phone trying to take a catch in the sea. Posh Margaret offering Barmy Kev a return catch that nearly ruined his married life before it started. Don stood under a tree with pen and paper at the ready to score what is probably his most bizarre game to date! No idea who won as scorecard was ruined by Don's sweat as he presented it.
After our exercise for the week was done, Kev and myself met a bit later at the beach side bar for drinks and flag photos, on different mini buses we left for the ground.
We met others on 'the mound' opposite the main grandstand. Two noticeable fans being Keith the Pipe, who we found walking towards us.'what the heck you doing here?' 'Welcome to my country' he said, still dressed, as he would be seen at Lords, in searing heat! The other a guy who had the three Seaxes tattooed on his arm, Darren Gosling. Two legends! Don found us, and said Stanford wasn't allowing the club to fly our flag at the ground, even when playing a game, so asked if we would look after it, and we did, with pride. At each game, we decided to go on a lap of honour round the ground, showing the flag so everyone would still see it.
The Sky cameras are there, and caught Kev doing a 'dance', it got shown and Bumble gave him plenty of stick saying things like 'it doesn't suit the Caribbean, stop lad, stop etc!
The game is Middlesex v England.England took Owais Shah off us, So, we in turn borrowed Neil Carter from Warwickshire for the series, we called him 'the holiday maker'.
England won the toss, and decided to bat, making 121-4 off their 20 overs, with Shah (who else), top scoring with 39 no. On the bowling,Kartik 4-0-27-2,Carter 4-0-21-1 were the wicket-takers. Others who bowled were Murts 3-0-28-0,Finn 4-0-22-0,Udal 4-0-14-0 and Malan 1-0-5-0.
It's time for the Middle reply and we could only make 109-4,losing by 12 runs, Malan 42 n.o and Joyce 33. Other batsmen were Carter 11,Strauss 8,Morgan 4 and Dexter 4 n.o
We all noted how low the lights were due to being close to the airport this was causing problems for both teams when fielding. Strauss dropped what looked like a dolly (England till he dies).
The ground had one 'dug out' for both teams, and Stanford kept visiting it. I suppose it is his ground, after all! He also walked around the ground like the messiah.
We all head back to the hotel, and the usual beach side bar. We discussed the game with members of the club and enjoyed the 'all inclusive bar' to the early hours.
We eventually retired to get ready for the game tomorrow Middlesex vs Trinidad and Tobago, the richest game in cricket history.
View a Printer Friendly version of this Story.
We Ain't Going to Stanford It (Part 3of 6)
Discussion started by Middlesex till we die , 01/03/2016 18:30
Middlesex till we die
01/03/2016 18:30
What do you think? You can have your say by posting below.
If you do not already have an account
Click here to Register
.
Edited 1 time(s). Last edit at 2016:03:13:22:14:56 by BarmierKev.
Sorry, only registered users may post in this forum.