DO YOU MIND? I AM TRYING TO WORK! TAUNTON DAY FOUR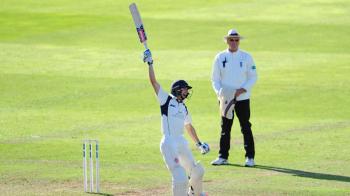 Simmo's birthday present
By Ged Ladd
January 22 2017
Ged Ladd describes the fourth day of the Taunton match from his work perspective. Having spent part of the previous week in Scarborough and having scheduled more time off the coming Thursday and Friday for the test match, Ged was planning on getting his work done during the Somerset match…until the match got very interesting! There are links to MTWD reports covering all 4 days at end of the report to confirm it really happened. This was the day most of us dared to believe we could really be champions.
It's 13 JULY 2016
Contrary to popular belief and some evidence to the contrary, I do actually work. I had designated the Monday to Wednesday of the Taunton game as work time. I had little choice really, having:
Monday and Tuesday were office and meeting days, whereas Wednesday I was working from home and I needed to get all my write ups done ahead of the test match.
Daisy and I had listened to quite a bit of Day One of the Somerset match on the internet radio and thought Middlesex were very well placed at the end of Day One. Similarly, I felt Middlesex were probably setting up a good win at the end of Day Two, although doubts were entering my mind at the end of Day Three, observing that scores seemed to be getting higher and higher each innings; that often bodes for a draw, not a win.
Still, overnight at the end of Day Three, Somerset were 348/6; just over 200 ahead with six wickets down. The second new ball was still pretty new; if Middlesex could finish Somerset off quickly, then it still looked good for a Middlesex win.
On the Wednesday, I got a fair chunk of my work done early (as is my habit), then went to the gym around 11:00ish so I could listen to the internet radio for a bit through the headphones while I exercised. This was a frustrating hour. Middlesex working hard but to little or no avail. Me, with my more workaday forms of exertion, probably even more futile efforts.
I missed the wickets that fell in the morning session but was back at my desk around lunchtime. It still seemed possible that Middlesex might win as long as we could finish Somerset off quickly after lunch. That didn't happen. Nor did I get all that much work done during that first part of the afternoon session, while I was anxiously willing the Middlesex bowlers to take that last wicket.
When Buck Rogers declared, nine down, he seemed to be throwing down a tough gauntlet. Although it had been hard to take wickets on that track, no-one had scored at more than three/three-and-a-half runs per over. Middlesex were going to need to score over 300 at more than six-and-a-half.
Intriguing situation…but I needed to get that work done. I'd just leave the internet commentary on in the background and get on with my write ups…
…easier said than done. It was clear from the outset that Middlesex were going for it. I tried to concentrate on my work.
A win really would cement Middlesex's position at the top of the table, whereas a draw would leave the table wide open still. We already knew how hard it was for Middlesex (or indeed any county) to win a game in four days at Lord's this season, so away wins were priceless for Middlesex. I tried to concentrate on my work and get some done. The tea interval helped a little.
Then a small cluster of wickets, followed by a much more sedate 5th wicket partnership between Franklin and Simpson for about three-quarters-of-an-hour after tea. I got a bit more work done during that period, although I was feeling a bit frustrated with the match during that time. Middlesex seemed to have bailed out of the run chase a little early for my taste. Little did I know that they had done no such thing.
I very clearly recall going downstairs to make myself a pot of tea and hearing Franklin's dismissal while down there. The office in my apartment is an upstairs annex, but I have the whole apartment wired for sound; most of the time have the sound switched on in all rooms. This is a music and Radio 4 habit as well as a cricket commentary habit with me.
Once I heard the commentators say that James Fuller had been sent out to bat ahead of Eskinazi and Rayner, I realised the game was about to get very interesting indeed.
For a reason I simply cannot explain, I plonked myself in front of the computer/sound equipment in the front room and just sat there, staring at the equipment, listening. There is no purpose to looking at the equipment. The sound is no better in that position. I think it was simply a psychological thing; the sound of the action is coming from those gadgets and I needed to feel close to the action.
If it were possible to hide behind the sofa in my front room, perhaps I would have done that instead at some point during the next hour or so. But I have a futon in the front room and there is no place to hide behind there.
So I just sat. I didn't even finish making the pot of tea until a few minutes after the match and broadcast had finished. What a finish - click here for the scorecard.
It really was a breath-taking ending to a four day game. Just two wickets left. Six runs needed off the last three balls. John Simpson, you hero! Not just that winning six of course; there were three others and plenty of fours too – mostly at the latter-end of his almost-run-a-ball 79.
Great declaration from buck Rogers too. Somerset needed points at that time and he nearly managed to pull off a surprise win. Little did he or we know how the rest of the season would pan out, but Middlesex's win in this Taunton match (as well as the Scarborough match the week before) was vital in setting up that last day of the season extravaganza, in which Middlesex, Yorkshire or Somerset all might have grabbed the County Championship right down to the last few minutes of the season.
What a County Championship summer 2016 turned out to be; of course for Middlesex, but also for the County Championship as a tournament.
Meanwhile, that day in July, when I finally came down from cloud nine after Middlesex beat Somerset, I realised that I still had plenty of work to do and that the evening was relentlessly progressing. It was a late finish and a late night for me, but, by gosh, it was worth it.