We Ain't Going to Stanford it. Part 4 of 6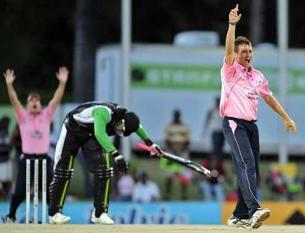 Appealing Trip
By Beefy Roberts
February 5 2017
Beefy reports on the richest game in cricket history as part of his Stanford tour reporting. This the fourth out of six pieces. For those who missed 1-3 and can be asked please click on links. Meanwhile, enjoy reading about the build up and the ultimate heartbreak
The morning usual breakfast meet was taken up. Our group is getting a bit bigger each day and others beginning to recognise us. The first game for the Middle was discussed once again (defeat to England we could have won see earlier report). A unanimous decision was made for the start of pre-match entertainment. Nothing, just relax, recover and chill in the sun or in Beefy's case under a beach brolly!
The usual bar is our chosen venue for the pre-match drink. A last bag check of camera, cap, sunscreen and sunnies off we go. Back to the room. The flag, DONT FORGET THE FLAG!!
I'm at the bar. Kev arrives and a good chat gets going with the barman who loves his cricket banter in the friendly way of course. He tells us as we leave for the mini-buses to make sure we return to his bar, as he will still be working.
The buses head to the ground and all the chat is about how well we will do against the Caribbean side. All fairly confident of a Middle win.
At the ground, we head to our same place to meet up on Murtagh's Mound and the usual suspects are joined by a few more. There are other Middle followers two from Blackpool one who we christened 'Bumble'.
The locals are here in force as well as they want to see the English Champions take on the Caribbean version, Music is thumping out and our 'Middle, Middle' chant is drowned out. We get some of the locals to join in to help us, some ladies enjoyed the Sex! Sex! bit....we create the Middlesex Supporters Club, Antigua Branch!
To the game...We find out this game is the Trans-Atlantic Twenty20 Champions Cup. Middlesex win the toss to our cheers and decide to bat under clear blue skies. We are in and struggle against a good Trinidad & Tobago side making 117-8. Dexter top scores with 39, others are Strauss 20, Morgan 30, Scott 11
T&T reply reaching 122-5 with 4 balls remaining, Danesh Ramdin top scores with 41.Our bowling is Murts 4-0-18-2,Carter 3-0-25-1,Henderson 3.2-0-20-0,Udal 3-0-15-0,Kartik 4-0-24-0,Malan 2-0-11-2. So we lost by 5 wickets and T&T claimed the huge trophy. Kev is in tears.
Feeling gutted and deflated we return to the hotel bar, not much chat going on. After a few needed stiff drinks, we slowly get talking as the defeat sinks in and the T&T team return with the trophy. Being good sportsmen our team are chatting with them and we show the right spirit as well, by going over to the team and shake hands Congratulations, a deserved win and it would of been wrong if we ignored them.
Tomorrow is another day in this Middlesex tour to Antigua. What will it bring????? You will find out later, watch this space.