Final match of the season, was it pie on the SKY. ( Day 1 )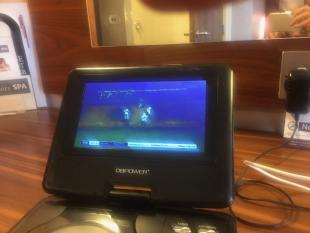 Glued to my screen
By Barmy Kev
March 4 2017
Barmy Kev reports on day 1 of that agonising at times final championship decider match of the season via his view of the Leprechaun's taping of the event. We have a different perspective as we hear of the Kev's views of the commentary and his emotions at the time. There are 4 parts to this report and let us hope for a happy ending.
The SKY coverage of the season defining match started stating Somerset and Yorkshire absolutely had to win to claim the title. Going through other permutations almost certainly so did we. From the uncontested unfair advantage toss obviously we were put in under heavy cloud cover. Paul (not) Alott thought this was a result wicket. Yorkshire team was adjudged to be a batsman light with a strange decision to leave Plunkett out. It was mentioned by SKY commentary team with heavy emphasis on name, Andrew Strauss who said no to Bairstow playing. There were references to Rashid's self imposed withdrawal, inferring it was dodgy.
That first session, with lots of swing was difficult viewing even second time round knowing the result. Compton's LBW which looked like going way over on replay perhaps might have just clipped the bail. A major turning point of season we may have forgotten about at 54-2 within 3 balls two fairly easy drop catches. including Gubbins. Not sure if Not Allott was trying to be funny when he said "A Lyth for Middlesex there." 3 down at lunch according to Rob Key honours even I did say at the time under circumstances this was a good session for us.
There was an amusing comment by Nasser after lunch for the workers in suits and high fluorescent bibs surveying Warner Stand works. "why aren't they wearing MCC coloured bibs?" At tea we are 168-5 with Gubbo 96 not out. Still fairly even in commentary opinion and mine. Somerset are doing well.
On this day , I had to leave at tea for an important appointment, feeling distracted there. This was only part of game I missed and saw it for first time on this DVD . I was on edge while Gubbo was in the late 90s for some time. Even more so after a loud LBW appeal turned down when replay showed he was out. Gubbo's hit a 6 to achieve his ton. Having watched the ovation, I really wished I was there to applaud him.
No more wickets lost, but I was glad I was not around on the day when I saw them shortly after going off for "bad light" with unused floodlights in the background. This annoys me every time this happens when I'm at Lord's. The "experts" thinking was this is good news at Somerset who had a good day despite having just lost 5 wickets for 0 runs. It was mentioned what would happen if light is like this Friday afternoon when the game and Championship maybe in the balance. I was reminded by Robert Key's our slow scoring confirmed we are on verge of having to win.
3 more days to go. No one is truly any wiser who is going to end up as County Champions of England.
View a Printer Friendly version of this Story.
Final match of the season, was it pie on the SKY. ( Day 1 )
Middlesex till we die (IP Logged)
04/03/2017 23:03
What do you think? You can have your say by posting below.
If you do not already have an account
Click here to Register
.
Edited 1 time(s). Last edit at 2017:03:26:11:59:00 by BarmierKev.
Re: Final match of the season, was it pie on the SKY. ( Day 1 )
05/03/2017 14:40
Great first day read from the 'sky angle'.
Bringing back day to day memories,carry on,our intrepid reporter 🏆🏏🍾
Sorry, only registered users may post in this forum.