Gregory Pecks Middlesex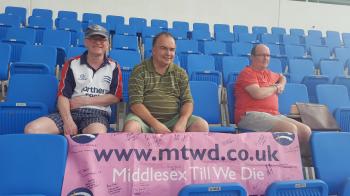 Loyal supporters
By Rogers and Out
March 27 2017
Rogers and Out reports on precarious travels and position Middlesex find themselves in.
Middlesex face an uphill struggle at close of play on the second day at the Sheikh Zayed stadium as MCC lead by 298 runs with three second innings wickets remaining.

Three Somerset bowlers took all ten Middlesex wickets, with Lewis Gregory in particular doing the damage, leaving us all out for 179, four runs short of the follow on, which was not enforced.

After a traumatic journey to Abu Dhabi which ended up taking 36 hours, thanks to diversions to both Frankfurt and Muscat, we headed to the stadium for the start of day two. Sadly, our taxi driver did not know the way to the ground and another difficult journey beckoned.

After a tour of the arid regions in the outskirts of town, we finally arrived around twenty minutes after the start. The good news was that we had not lost any further wickets from our overnight position of 9/1, with Nick Gubbins and night watchman Tom Helm still in situ.

Both batsmen looked relatively comfortable and Helm cover drove Leach for four in the thirteenth over. He then lofted him straight to the boundary two overs later, but his expansive play was curtailed with the very next ball when he was clean bowled for 15, leaving us on 44/2.

Gubbo went on the attack in the next over bowled by Craig Overton. He pulled him for four, was dropped from the next ball at midwicket and three balls later launched him over the ropes for a maximum.

Nick Compton had come in at number four and had played a couple of neat flicks off his legs to accumulate five runs, when he was undone by the excellent Gregory who clean bowled him leaving us 65/3.

Gregory picked up another wicket in his next over when he induced a false stroke from Gubbo who was comfortably taken by captain Lees at midwicket for 38 and we were reduced to 66/4. Worse followed three balls later when a beauty from Gregory caught the edge of Steve Eskinazi's bat and he was pouched by 'keeper Cox - 66/5.

Dawid Malan and John Simpson were now at the crease and the two left handers dug in to try to save our bacon (beef bacon as we're in the Middle East).

Mala punished leg spinner Mason Crane when he dropped short, blasting him to the boundary on several occasions. Our one hundred came up in the 33rd over and we took tea on 107/5.

Just before the interval, there had been a strange humming noise that could be heard all around the ground. We thought this may have come from the natty red and white pylons that skirted the stadium. However, the noise abated when the floodlights were briefly turned on and our ears were saved further punishment.

Middx fail to pylon the runs

There was also some interesting dual use of the lavatories in the ground. One was utilised to wash up the tour party's crockery, and another doubled up as the groundsman's laundry room.
Taking the p


Dawid had a fortuitous escape when he was dropped at slip from the first ball after the break. The unlucky bowler was Lyth. The man from Whitby experienced further bad fortune when Simmo drove him through extra cover to bring up the fifty partnership in the 39th over.

Malan brought up his half century in the 53rd over when he cut Crane to the boundary and it was looking increasingly likely that we would make the follow on target of 183. However that all went west when Overton came back into the attack. He took the vital wicket of Malan with a ball that kept low, dismissing him LBW for 56. Two balls later, he had Franklin snaffled caught behind and we were rocking on 164/7.

Simmo was still looking quite good but when he reached 49, he was looking to nudge a single for his fifty when he played a ball that he possibly might have left down the leg side and Cox took another catch behind leaving us nine short of the follow on with two wickets in hand.

James Harris reduced that target when he drove Overton through the covers for four, but the burly Devonian soon cleaned up our last two wickets. Harry Podmore chipped him to Leach at midwicket and he bowled Ravi Patel with the very next ball.

So we ended up all out for 179. Good bowling from the Somerset lads although batting was difficult in the gloom as the sun was setting.

An early dinner was taken and those of us not on the official tour were contemplating a departure to have our dinners. However I did manage to see Poddy take a couple of quick wickets after his first over had gone for twelve runs.

We had a lengthy wait for taxis and managed to follow the game's progress via the illuminated scoreboard. MCC were 90 odd for five when our cab materialised and at close of play, they stood at 145/7. Our driver drove us back like a deranged Emerson Fittipaldi and although we did reach the hotel safely, it was definitely seat of the pants stuff.