Anything But Uxbridge Dhabi our new out ground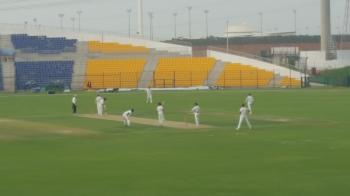 Our new fortress
By Barmy Kev
April 1 2017
Middlesex CCC die hards, time to save up for visting a new venue in 3 years time , as Barmy Kev reveals an exclusive bit of information that will change the ways of following our team at "home".
From some kind of reliable source who attended our recent pre season tour I have some inside knowledge that I feel MTWD should share. The Sheikh Zayed Cricket Stadium will be our new outground from season 2020 for pink ball games.
This may seem fooloish, but we can all see the logic. Just think about the massive advantage we have out there for our home games. We have a 100 per cent record here as Champions of England ( we know what we are).We have used 20/20 infra vision on day 4, I mean day 3, to work out how to use the pink ball in the twighlight to achieve yet another an improbabe victory. These conditions will be alien to our opposition. Unlike Lord's and Uxbridge we have a result wicket here.
Just remember ,we have crossed the border to make it to the Oval for a home 20/20 match which we won. What's the difference here?
There are so many advantages of using this venue that could become a Middlesex CCC fortress. Apart from few MCC jobswoth diehards the away support here was miniscule. Yet there were at least 40 on the Middlesex tour and many more travelling through other means. We will definitely not be out sung by the opposing fans.
One snag is that the ground is imposible to find, taxi drivers get lost on route , you may have to leave before the end of the days play to find your bed. Negotiations are going on as I type whether Steve Baldwin on behalf of the Seaxe Club can offer a coach service to overcome this.
This ground serves no alcohol which is another benefit. It means if Kev turns up we may get a degree of accuracy on MTWD match reports.
Gus was asked for his opinion on this matter. He had other priorities as he looked grumpy obviously concerned about his position given what happened to Claudio Ranieri this year. Richard Scott said Chris Adams is available and we need to take positives from this
A final word from our shirt sponsors Nike. This ticks all our brand boxes on our sportswear to promote this team as a global product.
All I can say to this is. Abu Dhabi booo!