Carbs good for health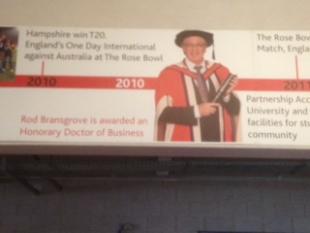 Dr Bramsgrove we presume
By Rogers and Out
April 16 2017
Rogers and Out report on a tough 2nd day for Middlesex but a good news story about Michael Carberry noone would begrudge. And a bit of Hampshire history thrown in as well as a comparison of cricketing and football off field styles.
An attritional second day's play at the Ageas Bowl ended with Hampshire trailing us by 147 runs with six wickets in hand. Whilst a draw looks the probable outcome on a flattish pitch, it remains to be seen how our hosts will be affected by the injuries to Fidel Edwards and Rilee Rossouw.
After yesterday's close of play, I decamped to the on site Hilton for the night to be joined by Beefy who had a last minute change of mind and decided to stay instead of commuting home and back the next morning.
We were joined by the Middlesex squad and Manchester City, who were playing at St Mary's the next day. Consequently, we were in the company of two top class sporting coaches - Pep Guardiola and Richard Scott. However, only one of them has won a title in England and I trust Scotty was able to give the surprisingly diminutive Pep advice on what it takes to triumph in Blighty.
It was interesting to note a marked difference in the demeanour of our boys and City's players. Our lads looked relaxed and appeared to be enjoying themselves whereas the footballers were regimentally marched into their own private dining room to avoid Joe Public. I guess money doesn't buy you everything.

At start of play, conditions were overcast and the weather was fairly chilly. Run scoring was at a premium, and the two ex-Middlesex men Kyle Abbott and Gareth Berg kept things tight. Franco made his best score of the season with nineteen before he was taken at slip by Vince from the bowling of Abbott, and we were reduced to 294/7. I was beginning to fear that we may not make 300, but Ollie and Toby started to play some shots, with the Ollster cutting Bergy behind square for four to clinch a third batting point in the 104th over. TR-J dished out some treatment to Abbott in the following over, dispatching him for four then six. The fifty partnership was reached and we made a valiant attempt to gain a fourth batting point only to fall just short.
Toby eventually fell to the bowling of Wheal, caught by Dawson. Dawson then had Ollie LBW with the next ball, which was small amends for his poor bowling the day before, when Mala smashed him around the park. Our innings ended soon after on 356 in 113 overs when the lively Wheal trapped Fiinny leg before for two.

Sadly for us, the overcast conditions cleared and so Jimmy Adams and Michael Carberry were able to see it out for the thirty minutes to lunch, although Murts and Toby did make them play and miss on several occasions. We took lunch in the newly named Arlott Atrium which is housed inside the Rod Bransgrove Pavilion (also newly named). We had seen the affable Rodders holding court in the hotel bar the previous night and my Hampshire supporting pal told me he made his fortune by owning the rights to Thomas the Tank Engine, Pingu and Postman Pat. He also makes an appearance on the Hampshire timeline thanks to his award as an Honorary Doctor of Business in 2010.

Finny bowling to Adams - (Sorry it has rotated but that is the website done that! (Ed))
After lunch, Adams started to accelerate the scoring with Carberry happy to drop anchor. Finny had come into the attack from the Pavilion end but was guilty of straying down the leg side. It was left to Ollie to make the break through, when he had Adams taken at slip by Captain Franco (Jamie Franklin, according to the announcer) for 34, leaving Hampshire on 57/1. The roles were reversed a few overs later when Ollie took a splendid catch at second slip off the bowling of Jamie to dismiss Vince for eight. Dawson was next man in and looked to atone for his below par bowling performance. He fell just before tea to a dubious looking decision, caught by Simmo off the bowling of Rayner. He was not happy at all with this decision, but I guess at least he was consistent with his petulance across both days.
Carberry doggedly stuck to his task and made a deserved half century although he had an injury scare when he collided with Toby. He appeared to have hurt his hand quite badly but was able to continue after treatment.
I had to leave I order to get my train from Hedge End so missed Finny bowling Ervine, who also made a fifty. The doughty Carberry finished the day unbeaten on 84, and honours are pretty much even at the half way stage.