Gregory's Girl?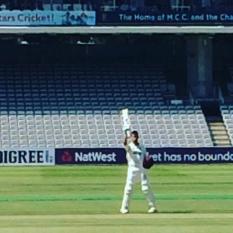 A pain in the Peck
By Dasher Denning
June 3 2017
Dasher Denning gives a Somerset perspective on today's play. As well as hearing about our noses being rubbed in it there is Gregory's build up the night before, questions concerning the nature of his relationships and some random comments about boxes.
Thanks to Eurostar, I missed the first session. To explain, I was in Lyon yesterday afternoon and the train home was due to leave at 5.30pm, getting us into St Pancras at 10.15pm. It left Lyon at gone 7pm... Brexit means not brexiting on time.
When we finally got to Lord's I was told that the first session had been "pleasingly uneventful from a Somerset point of view". One drop and one loud lbw shout had apparently been the only scary moments of the morning, which is astonishingly rare for our batting line up this season. To emphasise this, we increased our batting points for the season by 50% in the morning session.
Gregory and Elgar brought up the 200 partnership early(ish) in the afternoon session. Around this point it became apparent that we had Lewis Gregory's sister or girlfriend (no stereotypical Somerset jokes please) sat directly behind us, along with maybe his brother. We heard how they'd met up after the close of play the previous night and had both had four pints each before trying to order food and finding out that the kitchen had closed. As a result, Lewis's dinner on the eve of his maiden century had consisted of four pints and some Dairylea Dunkers.
It also became clear at that point that Lewis's mum and dad or maybe future in laws were at that point hot footing it across London to try and see whether Lewis could complete his maiden first class hundred. We were getting a running commentary. "He's at St John's Wood!" they said as he was on 94...
Lewis's maiden first class ton came up in the 95th over and Dean Elgar also went to 150 in the same over. London buses etc. Did his parents/future in laws make it?
YES!!!! Apparently they'd bulldozed their way past a steward on the North Gate and had got to the Media Centre just to see him do it. Somehow they also managed to get a recalcitrant steward to allow them into the groundsman's area and then take a picture of them in front of the scoreboard. Lovely scenes.
Franklin finally broke the partnership on 249, 12 runs short of a record partnership for Somerset. After that there were some decent cameos and decent hitting from the Somerset lower order, though one ageing Middlesex member probably wouldn't agree as he failed to move from his seat in the Mound Stand and caught a straight six from Gregory straight in the, erm, lower midriff. He could have done with wearing a box.
The rest of the day was a bit of a blur as some old school Barmy Army mates turned up but boxes were a recurring theme. Steve Eskinazi declared that he needed an "extra small one" when padding up on the boundary to field close in to Rayner. Then in another Tavern Stand boundary conversation Nick Compton and one of our BA mates were discussing an England tour where Compo had donated one of his boxes to a female fan at the end of the Test.
Apart from that, Somerset declared on 443 and then had two lbw shouts - one to Groenewald, other to Davey - that looked plumb from where I was in the Tavern Stand.
A lovely day in the sun was had