No Calfing matter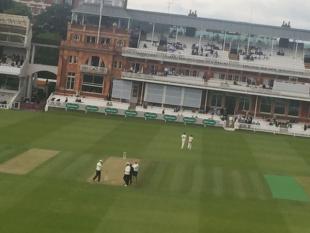 Here we go again
By Barmy Kev
June 4 2017
Kev stands in to report on another difficult day in many respects
It's me reporting again. Our designated reporter had changed his mind about attending which is fair enough. Having experienced another poor day Friday and my teletext view was unfavourable for yesterday I was doubting if today was worth bothering with. The appalling incident overnight encouraged me to come along. I will not allow any terrorist stop me from going out. There were many absentees who I expected to be there purely due to the cricket events of the past two days. The crowd was sparse.
I arrive 12:15, with the score 80 2. I thought there was a delayed start. According to West Ham Tony I missed a "sunshine snooze fest". Further comments deleted due to excessive expletives. It was commented once the new ball seen off there is no life in the wicket. It seemed to be this way until Gubbo out for 56 just before lunch.
There was a minute silence at end of lunch in memory for those who lost their lives yesterday. A reality check for all of us.
Meanwhile, Stirlo is taking a while to get off the mark and then does so with a 6. He accelerates and there's a century partnership with Voges.
A stirling six
He's caught behind 217-4 and then new ball called for perhaps there is something in this game? Simmo out for 2 the follow on target a worry.
After tea not good Voges on 86 pulled up. This injury looks long term I hear it is a calf which is most concerning.
Voges in full flow before his injury
TRJ soon out and now saving follow on really dodgy. The light is worse than when we went off on Friday. We have on 290-6 in worsening light Overton bowling bouncers and we are off. I'm on way home thinking that's it for day and we should avoid follow on and gain another bonus point. My phone tells me they are back on Ollie out without any addition. We did avoid the follow on we are close to 300. I wonder how many were there to witness the very end. Going into last day It looks like another draw . Where have I heard that before?