Dull and Duller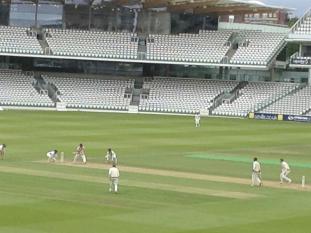 Zzzzzzz,,,,
By Rogers and Out
June 5 2017
Rogers and Out tries his best to provide an interesting report on a very dull day's cricket with the inevatible result. Read on from the edge of your seats.
It was no surprise when, at around five o'clock this afternoon, a draw was agreed upon at Lord's and a fourth consecutive County Championship stalemate out of four was recorded by Middlesex in a contest with Somerset that only a dyed in the wool red ball enthusiast could have found enjoyable.

Having said that, I also went to the second day and was entertained by the batting of Dean Elgar and Lewis Gregory but generally this was a dour game.

Only the supremely optimistic would have attended today expecting anything other than a draw, and the certainty of this was reinforced when we continued batting when play resumed at 11.25 this morning.

I had thoughts of us declaring, Somerset scoring quickly and setting up an exciting run chase, but it wasn't to be. Tim Groenewald opened the bowling for Somerset today from the Pavilion end with the Tank facing and he delivered a maiden, a feat he was to repeat several times during the day.

Tom Helm opened our account for the day in the next over from Josh Davey with a neatly executed cover drive that went to the boundary.

Our captain was initially finding scoring quite tough but he eventually got under way in the 115th over when he edged Groenewald through the slips for four. Helm was more prolific, registering several boundaries, especially from Jamie Overton's solitary over today.

Overton's over probably provided the most entertainment in the whole day. Twice he strayed down leg side to see Tom clip him away to the square leg boundary. He was now audibly fuming and delivered a desperately high short pitched ball to Franco which went to the boundary for six no balls. You could almost see the steam coming out of his ears, especially as this brought up our 350 (Tom's first four had secured a fifty partnership).

Lewis Gregory replaced Overton at the Pavilion end and with his first ball, sent Helm's stumps flying. His score of 28 was his best in first class cricket and we were 352/8.

Tim Murtagh came in and scored a couple before being caught by Davey off Gregory. With Adam Voges not able to resume his innings due to his calf injury, Franco was left high and dry on 49, and we trailed the West Country men by 85 runs on 358.

Somerset had twenty minutes of batting before lunch and the out-of-sorts Marcus Trescothick fenced a lifter from Toby which looped up kindly into the welcoming hands of Simmo. Tresco had failed to trouble the scorers leaving Somerset on 1/1.

Helm had taken the new ball from the Nursery end and opened with a maiden. Elgar flashed at him in the fourth over and saw the ball fly over the slips to the boundary. Lunch was taken after five overs with Somerset on 16/1. The other good news was that our over rate was +1 although this was to revert to zero quite soon.

Dial M relieved Tom of bowling duties from the Nursery end after lunch and was most economical. Apart from a straight drive from Elgar for four he only conceded the odd single in his first eight or so overs.

Tom Helm replaced TR-J at the Pavilion end and soon after, Elgar cut him between point and gully to bring up the Somerset fifty and the fifty partnership with captain Tom Abell. Ollie replaced Murts at the Nursery end in the 20th over, but it was Helm who struck in the next over, having the dangerous Elgar taken by the sure handed German at second slip. The prolific Springbok had scored 33 and Somerset were now 59/2.

Andrew Hildreth came in at number four and cut Ollie square for four to open his account. Helm's figures took a bit of a pounding in the 23rd over when he conceded three boundaries to the now fluent looking Abell.

Hildreth also took a couple of fours from Tom before Stirlo came in to replace him. Hildreth cut him past the fleet footed substitute Arthur Godsal to the boundary to bring up Somerset's 100, but two balls later, he managed to bottom edge a Stirlo delivery and Simmo took a smart catch, dismissing him for 26. Somerset were now 101/3, leading by 186.

Keeper Steve Davies was fifth man in but the next landmark was the doughty Abell's half century, nudging the required single to point from the bowling of Rayner. Tea was taken after 39 overs with our visitors on 129/3, and no sign of any declaration.

After tea saw the welcome sight of a Middlesex over rate of +5 but absolutely no sign of any sort of contest. After one ball of the second over after tea bowled by Helm, the players went off for bad light.

I must admit I'd had enough by then and departed for home, only to find I missed Simmo, Compo and Gubbo (Middlesex's answer to the Marx Brothers ?) bowling. I think that would have even eclipsed Jamie Overton's eventful over.

So a draw it was and it's getting to the stage where we really need a win or two to give ourselves some momentum in the quest for retaining our title. Whilst we drew our first six last season, we play two less games this term and have less room for manoeuvre.

The continuing issue with flat pitches at Lord's is undoubtedly making it difficult for us (and our opponents) to force victories and the crazy situation regarding floodlights (or lack of) during the regular occurrences of bad light mean that we will need to win more of our away games to achieve any County Championship success.