Spin to Win? We're Avin a Larf !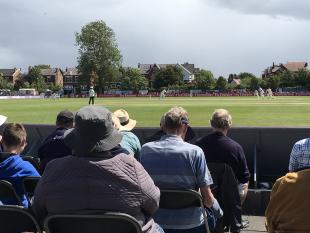 By Barmy Kev
June 11 2017
Barmy Kev reports on a day with some hopeful moments , lots of despair and strange tactics from us.
After yesterday's damp squib dedicated to Southport where rather frustratingly there was play all over the country it was good to wake up to blue skies and guaranteed full days play today at Southport. I recovered well from night before where MTWD die hards took over the dance floor for some strictly bad dancing. Our request for "Down Mexico Way ":":was refused. Seaxe Man Shaky moves to Green Door were worth the admission fee alone.
Back to the cricket. A win result for someone is likely despite the loss of a day. We needed to get Chanderpaul out quickly and we did second over brilliantly caught by Robbo at slip. Vilas departs soon after again caught at slip . A Michelle for Murts. We are into the tail and felt we are in a strong position.
The floodgates not opened for us as McLaren and Clark looked comfortable. It's wine o'clock with friendly bar service a novelty if you are a Lord's regular. Meanwhile Lanky have taken a lead with 4 wickets in hand. This partnership was becoming increasingly irritating and no sign of Ravi turning his arm to break it. I was relieved when Clark was out LBW a very long way up the pitch with score 198. Parry out for far too many ,nobody seemed to realise Mala caught it at slip.
During lunch break I saw Anderson and Helm practising on the wicket . Perhaps one for future with the one he may replace?
Regarding our chances if their lead less than 50 we are still in this game. But it's slipping sliding further away. Spin to win Franco eventually puts Ravi on and his second ball forces a McLaren edge dropped by Franco at first slip. Next ball 4 brings up his 50. 2 overs later new ball taken Ravi who looked threatening taken out of the attack. Lanky are taking the match away from us. My tactical disappearance caused the Parry's wicket. Bailey hits two successive 6 off Harry to bring up Lanky 300 his 50 and then his career best. Out next ball buys Harry's 4th wicket. Lanky 129 lead on a low scoring wicket . Ravi bowled a total of 7 overs. And Franco himself. 0 overs. (cough)
Rod Ed leaves ground not requiring updates from me. He gets them from his phone and as Middlesex batting expects loads of bzzzzz!.
The early dismissal of Gubbo he thought caught off his shoulder really did not help. As Robbo and Eski consolidate Parry spin bowling is on. At time of me saying spin does not seem to be doing much Eski is bowled bamboozled if it didn't hit the wicket he would have been stumped. Two more wickets for Parry of Simmo and Stirlo shortly followed With Tank 7th out for a duck our score 110 it could be over tonight. Those staying one more day may have second chance of lawn mower museum visit.
I had train booked to leave today. I had to leave the ground 6:20 at this point the scores were level . Shame about the 6 wickets down . As my train leaves Southport we now have lead of 27 still with four wickets in hand. We don't know when we beaten and who knows? Meanwhile I'm still trying to work out the misuse of Ravi.