South POORt result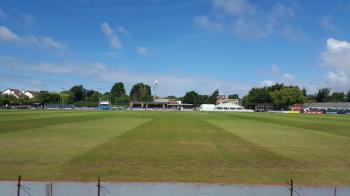 Lovely ground
By Beefy Roberts
June 12 2017
Beefy Roberts is MTWD's last man standing and gives us a short report on our inevitable defeat
Good grief the PA is on full volume as I'm thinking at ground all 3 results arew on. There is a sizeable crowd in.
We survived 4 overs for 11 runs. Harry is out. Mala reached his 50 and gone soon after. TRJ and Murts partnership is worth one less than 50. TRJ manages a 6 to top of marquee before out for what might be a valuable 31. Target 108 Davies takes 10 catches behind which is a Birkdale record.
As we bowl over rate -1. At 13-1 at lunch I feel we could still win stranger things have happened. Once 43-1 I gave up. We took another wicket on 49 . Once 80 reached Ravi and Stirlo bowling. I'm out of here knowing over rate is safe.
Despite the result and Saturday weather I enjoyed my stay. The people here are friendly and I appreciate their hospitality. It was great Chairman S&B a recent MTWD regular came up to me yesterday and chatted . We appreciate the help he gave us for our travels.
Let's hope we return here soon