Cover Up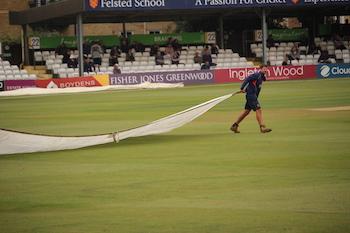 Most action all day
By London Leprechaun
June 28 2017
London Leprechaun gives us a pictorial record of the only action of the day on Day 2 at Chelmsford. Barmy Kev gives us a view of the day mainly from the pub.
The rain started just as play was due to get underway but then stopped around the first interval. So groundstaff got busy
They took the covers off
Removed the pipes
Umpires had a chat
Players got ready.
BUT THEN
Back came the covers
And they speeded up
Lots more covers went on
And those of us not in the pub went home.
BARMY KEV HERE
I was very close to giving today a miss, given state of game and very dodgy weather according to the BBC . One week ago in sweltering conditions I was watching us on top against the Yorkies. This scenario couldn't be more different.I really don't want to be accused of being a fair weathered fan so here I am at Chelmsford,
I arrive at Chelmsford in gloomy conditions with floodlights on as a reminder of what we did not have the benefit of when we needed them in the reverse fixture. I was not too upset for the Middlesex cause when just before the start at 2pm it drizzled surely a passing shower. No it peed down and was getting worse.
I took refuge in the Lower Tom Pearce and met the Leprechaun who's app gave a positive indication that they will be some play today. Having messed up a Killer Sudoku with one block left, the rain was unrelenting I thought I would go for a random walk. I ended up with Rogers and Out at the just behind the ground pub Orange Tree. Meanwhile, the Leprechaun was providing updates. It was revealed at 4pm we are on defo start 4:25 76 overs, tea at 645 finish 930.
Back to ground 4:24 it peed down even more. Another pub seemed a better idea where Essex fans with sense of humour did not mind me saying rain has saved Essex again. It was clear not even the most optimistic Leprechaun app there was not going to be any play today. I discover around the country there is plenty of play elsewhere.
On route home another pub visit we witness the unrare event of England losing a penalty shoot out. Rogers and Out agrees to to play walking cricket warm up match at the Hive Friday. We agree on a day of no cricket it has been fun and let's forget about us retaining the championship,
View a Printer Friendly version of this Story.
Cover Up
Middlesex till we die (IP Logged)
28/06/2017 09:21
What do you think? You can have your say by posting below.
If you do not already have an account
Click here to Register
.
Edited 1 time(s). Last edit at 2017:07:01:14:31:03 by BarmierKev.
Re: Cover Up
28/06/2017 11:14
A very detailed double report,and thank you both.
The drizzle we had all day didn't dampen your Day,and glad you managed to find a pub (whatever that is) to rest and stay dry!
Sorry, only registered users may post in this forum.