A Matter of Record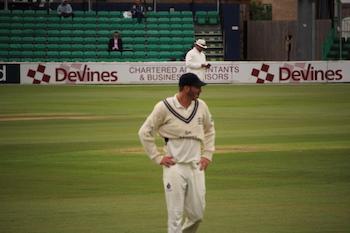 Sums Up the day
By London Leprechaun
June 28 2017
In between a travel/technology story and reporting of a gulls and duck battle we get to hear about a poor day at the office for Middlesex. Not much more to say really. But there are some pictures to keep you amused.
My motivation for Chelmsford today was low; East London felt like October and the match position was not exactly promising. But I had bought my expensive ticket from Shenfield to Chelmsford (£2 each way)and put it on my phone and I wanted to see how that worked. Surpsringly smoothly at Chelmsford Station. That improved the day's prospects.
Walking through Central Park to the ground I saw a gull trying to attack a baby duck, but it was seen off by very attentive parents. We needed that kind of fighting spirit today.
There was lots more prematch activity today apart from cover removal. Richard Johnson and James Franklin were poring over something very important on a phone; bowlers were busy preparing by throwing heavy balls around; and there was a positive looking strategy meeting before play started under grey skies and with odd spots of rain in the air.
We needed quick wickets; TRJ in particular beat the ball a few more times in the early overs; and produced the ball that might just have defined our Championship defence, beating Nick Brown and getting an edge that flew to an unlikely third slip – Steve Finn – and through his hands. He was 30 something; Essex only just over a 100. And how different the story of the day might have been.
The crucial drop
But as it was that was pretty much it by way of chances. Hardly anything after that went past the bat, let alone beating it. It became clear that a pink ball, floodlights and cloudy skies does not appear to lead to unplayable swing, speed or anything to trouble batsmen in the kind of sublime form that Cook and Brown looked to be in. In one way there seemed little we could do and to their credit everyone soldiered on. Bowlers kept going, fielders kept fielding; Dawid Malan rotated bowlers and ends. Higgins was a live wire in the covers; Murts was bowled off his feet; Simmo resorted to the Ministry of Silly Walks . But nothing happened wicket wise. Essex went off to lunch with a record 1st wicket against us; there was a brief moment when the covers went back on but whatever rain dance it was was not effective enough.
The second session – afternoon/early evening? was really a ditto of the first – morning/afternoon? To be fair Cook and Brown batted beautifully but there was nothing for the bowlers – not even a new ball made a difference except that the ball went even quicker to the boundary. The Essex 1st wicket record against anyone came soon enough and as we began to run out of overs for bowling points it was a huge surprise when Cook turned a ball from Ollie straight to slip just before tea. In came Chopra – substitute for Westley off to the Lions. I do not like this subbing business. And for a few balls before tea we had fielders round the bat and a bit of pressure on a batsman.
I have to admit I left at this point. It was cold and I did not fancy another two hours of this in gathering gloom. Besides I needed to get through Chelmsford Station with my phone ticket while I still had some battery. That safely accomplished, I managed to get hold of the commentary, which without Kevin Hand was dire. In between witterings about where Middlesex is (in Middlesex!), our thumping of Lancashire (did you know we won – those of you who went to Southport) and the regular dropping of the line on the journey home I gathered that Chopra went bananas, Brown got to over 200 and there was a lot of speculation about when Essex would declare. Ironic given what happened at Lords a few weeks ago. And at least I was home to hear a safe negotiation of the overs we did have to bat. But the Championship defence is gone I fear. And because of other committments I won't be able to listen to the dire radio commentary tomorrow; I jsut hope I don't have to hear the wicket notifications on my phone.