Grevious Bodily Harmer hurt Middlesex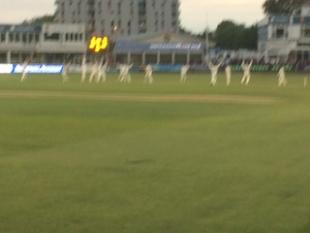 Another appeal
By Rogers and Out
June 30 2017
This makes painful reading but here is an account on how we came so close to hanging on for a draw but ultimately left dejected
A truly remarkable game of cricket at Chelmsford saw Essex snatch victory in the dying minutes thanks to the bowling of Simon Harmer, who recorded the astounding figures of 9/95 to cement the home side's place at the top of the championship table.

A superb rearguard action by Nick Compton, who scored an impressive 120, ably assisted by a dogged innings from Paul Stirling, looked to have secured a draw for us but the loss of four wickets in the final four overs proved to be our undoing.

It should also be said that the ineptitude of our batting in the first innings, when eight of our batsmen managed a paltry 25 runs between them, was a major factor in our demise.

Having attended days one and two (the latter with no cricket at all), I decided to venture back to see if we could dig in and escape with a draw. I left home early as I wanted to re-visit the excellent Chelmsford museum, where I learned about the Chelmsford Sissies, the Essex Regiment, the history of Marconi and the local music scene.

On the way there, I was almost flattened by a speeding mobility scooter on the pavement. Chelmsford does seem to be a hot bed for these vehicles, as does Canterbury, where I saw several parked outside the local Wetherspoons.

I arrived at the ground in time to see the out-of-sorts Nick Gubbins dismissed by the first ball of the day from Harmer. He pushed forward and edged the ball into the safe hands of Alistair Cook at first slip.

Steve Eskinazi at number three cut Jamie Porter over the slips for four in the latter's first over of the day and Compo then launched Harmer over the ropes for six in the next over.

Harmer picked up his second wicket soon afterwards. Eski swept him behind square to the boundary, but the very next ball, he edged to Cook at slip who contrived to parry the ball to Varun Chopra at leg slip to complete the catch leaving us on 49/2.

Compo brought up our 50 off the bowling of Porter, but it was the home team's turn to celebrate when Dawid Malan was bowled by Harmer for just a single. We were 51/3 after just half an hour of play, and things were looking decidedly grim.

Paul Stirling was next man in, but in contrast to his free scoring effort in the first innings, he played a much more conservative knock and Compo did the majority of the scoring in the partnership.

Although Mohammed Amir entered the attack, he was not as dangerous as he had been in the first innings and Stirlo drove him beautifully through the covers for four. Compo was playing each ball on its merits and was dispatching anything errant to the boundary.

The 39th over saw a Compton single bring up the fifty partnership and not long after, he pulled Harmer through midwicket to notch his own half century.

We reached the first interval on 111/3 after 45 overs. Stirling had made 21 from 59 balls and Compton 57 from 133.

After the break saw Stirlo ride his luck as twice Daniel Lawrence put him down at short leg off Harmer. He had another reprieve later when Ravi Bopara shelled one at leg slip.

The one hundred partnership was reached in the 58th over via a Compton leg glance. He was batting serenely and gave hardly a chance, although in the 64th over, he skied a Harmer delivery over mid on and the fielder there was fortunately unable to scurry back to catch it.

His well deserved ton came up in the 75th over when he pushed Harmer into the leg side for two. It had taken 232 balls, with twelve fours and one six.

In the next over, Stirlo registered his fifty, lofting Lawrence down the ground for six. It was looking like we would reach the second interval having not lost a wicket in the session. Alas ! Stirlo guided a Harmer delivery into the hands of Bopara at leg slip in the last over before the interval and we were 211/4 after 78 overs at the break, Stirling having made 55.

John Simpson had replaced Stirlo in the middle and looked quite fluent. The new ball was taken by Amir and Porter just after the break, which gave Harmer the chance of well earned rest.

However, he was back in the action soon enough from the River End and in the 90th over, he had Simmo taken by Cook at slip for 21, leaving us on 239/5.

Ryan Higgins came in and really struggled against Harmer. He could have easily been out twice in his first over, with Bopara again dropping one at leg slip. Higgo battled away and it was looking like we would escape with a hard earned draw.

With about half an hour's play left, Compo padded up to a Harmer delivery and was given out leg before for 120. A great effort that lasted 303 balls. Our score was now irrelevant - could we hang on with four wickets in hand ?

I expected the worst as Harmer appeared to put the fear of God into our batsmen. With around five overs left to go, Higgo bit the dust, taken again by Cook off Harmer for 16, although he did hang around for 58 balls. Two balls later, Ollie was walking back to the Pavilion after being trapped leg before for zero to Harmer, who now had all eight wickets.

The local crowd were now in a frenzy sensing a remarkable victory and that was the cue for them to berate our players for wasting time as they came out to bat. They were, perhaps, a little slow but I don't think any Middlesex batsman was wanting to rush out to the middle, given the circumstances.

With Harmer doing the damage, we reached a stage where he could only bowl one more over before the 9 o'clock deadline. However, in the over prior to that, the previously innocuous looking Lawrence had Toby adjudged LBW shouldering arms, meaning that one more wicket would give Essex the win.

Tim Murtagh had looked as comfortable as anyone facing Harmer and I can't explain why he chose to take a single off his fourth ball, leaving Finny to deal with two deliveries.

He couldn't even handle one, as he came down the pitch and offered no shot. LBW to Harmer, who had picked up his ninth wicket and a great win for his team. I think there would have been time for one more over, but that's conjecture now.

It had been a terrific day's cricket (I'm saying this through gritted teeth). Essex thoroughly deserved their victory and any man who can take 28 wickets in consecutive County Championship games must be doing something right although I can't help feeling our batting made Harmer's task easier than it should have been.

Essex must have a great chance of winning the title this season now, with a 29 point lead and five wins. I'm afraid we are looking like also rans, despite the fine efforts of Nick Compton and Paul Stirling.

I had a rueful journey home and my only consolation is that my batting in tomorrow's walking cricket practice can surely not be any worse than some I witnessed today. Unless of course Simon Harmer is in the opposition's line up.