Ricky Don't Lose That Number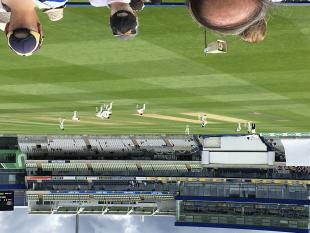 Concentrat
By Barmy Kev
July 3 2017
As Middlesex battle one day 1 of this crucial game Kev reports on his iffy journeys both ways, some random conversations some of which led to wickets and concern on Midlesex current plight
Dodgy start to day I had a pre booked train special deal from Marylebone to Brum . I made a point of arriving at station in good time. About 7 minutes before departure time the scoreboard indicated platform no. 6 the furthest one away. My pre booked ticket could not go through barrier . No staff around to let me through. My only option was to tailgate which I did with me using force to work way through closing barrier. Just caught train which would not have happened without my forceful intent. Phew I'm on train. I'm thinking about the recent painful Essex defeat and that draw early season. As Champions we are now in a relegation battle. However, in the words of LP I must remain optimistic. I'm privileged I can attend these matches and what is the point in turning up to these games having negative thoughts.
I arrived at Edgbaston to hear the news Hi Fi had been dropped /rotated/injured / picked by England. Gubbins and Sowter also not selected from 14 man squad.
We have elected to bowl , no early wickets and not many runs. On the half an hour Portefield out for 3. Umeed soon gone caught at slip no idea why it took him so long to walk. 19-2 which is promising start for us. Trott who walked in with locals saying how much he has disappointed this season , which sounded ominous for us looks in form. With Hain Dancing In The City they looked more comfortable than their openers and almost took them to lunch with the ascendancy. Hain is caught behind of the penetrating bowling of Higgins. Lunch 89-3 it's an even session.
As Lamb and Trott piling on runs after lunch there were discussions on our walking cricket team and being selected for our squad. Before this, the speedily way Beefy crossed the road on the way back from Edgbaston Tapper his place is now in jeopardy. Seaxe Man considered a like for like replacement and said he is up for stationary cricket.
We were again talking about how we lost at Essex which was painful. The conversation moved on to a heated debate on what is the plural of hippopotamus the result undecided. At this point the key wicket of Trott one less than 50 caught and bowled Helm palming it up in the air falling into his hands. As discussion moved on to what is plural of Higgins Ambrose is plum LBW. Desperate for a wicket we were trying to find variations on plural of Murtagh. It didn't work. At tea 181-5. Still honours just about even.
Final session Lamb was starting to slaughter us after giving us a slow roasting. His wicket sharp slip catch by Robbo off Ollie gave us hope it's 219-6. Barker in and was not good night from him with Ricky Clarke again taking the game away from us. We are in despair for our season as 300 up . It's all gloom and doom as day comes to an end. Conversations about 70s comedy shows raised morale a bit amongst our faithful. Last over of day Harry has the otherwise solid looking Rickety Clarke plum LBW out for 83, which Left them at close 302-7. At least wicket off last ball we leave on high, despite worries about where we are in whole scheme of things.
This is our last Championship game till reverse fixture at Lord's in August. We have a potential result wicket here. Let's hope we can turn this round in our favour as defeat will put us in deep mire.
My journey home thanks to pit stop with Beefy and Rogers and Out and getting lost resulted me in missing last train from Moor Street. I caught a delayed train with same ticket using different company from New Street that stopped at Watford Junction. The scheduled 142 bus from there did not appear and I was looking for alternatives. The bus arrived from nowhere. Luckily the driver waited for me on seeing my haste. My journeys like our season a bit of a roller coaster and hope somehow we can make it home
'It