Eski Moes Polar Bears down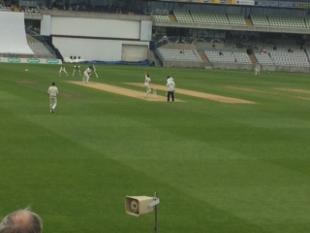 Dial M 1000 wickets
By Rogers and Out
July 4 2017
Despite a dodgy early morning head Rogers and Out is able to report on the twists and turns of today featuring a superb Eskinazi innings
Middlesex closed day two of the County Championship match at Edgbaston on 302/6, trailing Warwickshire by 32 runs. We were indebted to Steven Eskinazi, whose unbeaten innings of 178 kept us in the hunt and the possibility of a first innings lead.

Whilst it was not a chanceless knock by Eski, riding his luck on several occasions, he did also play many fine shots and he took a particular liking to the bowling of Boyd Rankin.

Beefy and myself were a little green around the gills at the start of play, having perhaps over indulged in the Post Office Vaults in New Street the night before with Kev, then ending up in a decent Italian restaurant and consuming wine and Irish coffee along with the excellent food.

Our not so appetising hotel breakfast was not helping either as we awaited the 47 bus to take us to the ground.

Having got rid of Ricky Clarke with the last ball of the first day's play, we were hoping to clean up the Warwickshire tail quickly and we managed to do so in around 50 minutes for the addition of 32 runs.

Murts caught and bowled Keith Barker one short of his half century. Enfield born George Panayi was the next wicket to fall, caught behind by Simmo off the bowling of Tom Helm for one, then Dial M wrapped the innings up by trapping Rankin leg before for no score. Warwickshire were 334 all out and one of those Murtagh dismissals meant that he has now registered one thousand wickets in competitive cricket for Surrey, Middlesex and Ireland (according to his wife on Twitter).

Our innings got off to an unfortunate start as the returning Sam Robson fell LBW to the third ball by Barker and there was a big appeal for caught behind against the incoming Eskinazi in the same over.

Eski and Compo looked to steady the ship after that early blow and Eski started to find the boundary, although it was not always from the middle of the bat.

Compo took a blow to his unprotected knee from a Clarke delivery which resulted in him requiring treatment from the physio. Barker also managed to hit him in the same spot and he went to ground again. He was eventually unable to continue and retired not out for twelve.

Captain Dawid Malan replaced Compton and he launched Panayi's first ball over midwicket for six just before lunch. We reached the interval on 45/1 after 13 overs.

We resisted the temptation to return to the awful Edgbaston Tap at lunch and instead purchased some sustenance from the nearby Aldi.

Poor Panayi took some more treatment from Mala as he clubbed a couple more boundaries in his second over. The locals were wondering why Boyd Rankin had not been called into the attack, but when he was, Eski pulled his short pitched deliveries over the ropes for six and he was proving more expensive than Panayi.

The fifty partnership between Eski and AC was reached in the 24th over and a few overs later, we had a let off when Matt Lamb nearly ran out Eski taking a quick single. To add insult to injury, the ball rebounded and went for four overthrows, with Panayi being the unlucky bowler.

Spin was introduced in the shape of Jeetan Patel and produced a quick reward, with Mala nicking one and Ambrose taking the catch behind from his second ball. He had made 39 and we were 114/2.

Nick Compton now resumed his innings and showed few signs of being affected by his injury. He was content to play second fiddle to Eski, who was scoring at a decent rate.

Jonathan Trott came into the attack for the Bears and it was from a delivery of his that Eski claimed his century, from 130 balls, including thirteen fours and two sixes.

Tea was taken for some reason with 38 overs still remaining with us 174/2. We ventured to the bar behind a pessimistic Warwickshire fan who asked for two pints of Pedigree and six wickets. The general consensus from their fans is that they are on their way down to the second division.

Both Compo and Eski were looking relatively untroubled so it was a surprise when Nick was caught behind off Clarke for 32, a decision he did not look altogether pleased with.

Stirlo did not last long, caught at point by Lamb off the bowling of fellow countryman Rankin for just a single and we were now 196/4.

Eski was still in and going well, now assisted by John Simpson. They made a fifty partnership and with the score on 248/4, I had to leave for Moor Street station.

Beefy soon informed me that Simmo was out and Higgo shortly after, both to Patel. James Harris and Eski reached the close of play unscathed and it's to be hoped that we can press on to make a sizeable first innings lead. If not, we could come under pressure on the final day with the spin of Patel.

Overall, it had been a decent day for us. Steve Eskinazi played well with luck at times and Nick Compton showed fortitude when returning to the crease after retiring earlier.