Helm steers Middlesex to hopeful position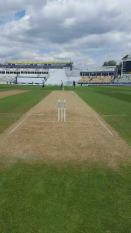 Will it last
By Beefy Roberts
July 5 2017
Beefy reports on a day that involved early wickets, a career best and an interesting position at the end of the day.
I arrived at 11.6 and Eski out already for 179. As Roy and myself walk to mustard seats, Rayner is late on a ball and bowled for 6 by Barker. Warwickshire member says to another: "See told you that jammy git will be out early." (He only made 179)
Roy has a spillage as water bottle leaks onto his shorts in a rather embarrassing area! Helm then out, slight edge of Clarke; caught by Umeed after nice four. At 900vers we need 34 runs for the next point but we are all out. Murts is caught Ambrose b lCarke for 10. The scores are level so we now have a one innings match.
After three overs, Warwicks move swiftly on to four for no wicket. Then 4/1 as Porterfield is caught Rayner by Helm for just less then one.
Roy heads to members area for his early lunch, while there sis lots of chatter amongst the team, urgency between overs. Its 17/2 as Umeed is LBW Helm; ball kepi very low. Then a huge appeal by Helm and slips for LBW; not given. Hain gets daggers look from Helm, Hain then goes for a quick single; Trott shouts a huge "no". Warwickshire member shouts: "Use your b….y brain."
Its 20 minutes to lunch; I'm taking an early one and heading to the Sir Harry's Chip shop over the Pershore Road. IT was 45/2 at lunch then Hain and Trott move on to 52/2. The 50npartenrship comes up wuth topedge of Trott's bat, through the slip gap for four runs.. Higgins comes on for Helm as we need this partnership broken. Come on chunks is heard from the field. (New name for Higgins?). Harris is on for Murts. A wicket at last. Caught Rayner b Higgins (or Chunky). 80/3.
Next wicket I missed as taking a comfort break. 87/4 Lamb gone c Simmo b Harris. It's a good Harris over but 100 is up for the Bears.
Ollie comes on for Harris, Birmingham end. Running looks easy – threes and fours being run; Trott gets to 50 of 104 balls. The 50 partnership is up; Warwickshie picking the runs easily. Ambrose passed 15,000 runs in all games during one over, but there are still 40 to be bowled. Another late one.
Malan is now bowling from the Birmingham end; its 173/4. Murts bowls to Trott who crouches down to miss the ball. Sudden appeal by Murts and couple of others; umpire unmoved.
Malan to Ambrose: traps him lbw for 44. Tea taken at 179/5.
Wicket then falls to Murts; Clarke was caught by Eski for six; a slow motion catch as the ball lobbed up. Murts to Barker; two balls sent back past Murts for four runs apiece. Over rate is plus 2.
At 211/7 Mala strikes again: Barker caught Rayner by Mala for 13.
Helm bowls to Trott on 99; he hooks the ball to Compo at midwicket and its 231/8. Another wicket as Patel is walking back, caught Stirlo b Helm; 232/9. Helm now has 4/58; then its 233 all out with a 5fer for Tom. well bowled Tom as Panayi is caught by Robson. And its career best for Tom: 15.4 pvers, 2 maidens, 59 runs, five wickets.
There are 13 overs to face this evening. We are 0/1; Robson leaves the field LBW Clarke for 0.
The ex Mex Clarke is having verbals with Eski after the first ball he faced. It's the end of the over and the ex Mex is still giving verbals; the umpire looked like having a word with him. Its ½ as Eski is back without troubling the scorer. Barker is constantly running on pitch; nothing is said. Rankin is not impressing the locals. And that is stumps 36/2.