Middlesex avoid the tie break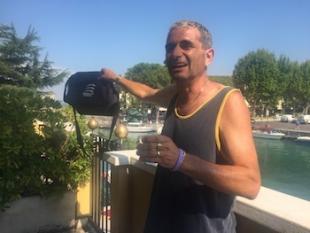 Happy in Lake Guardia
By Rogers and Out
July 6 2017
Rogers and Out reports on a day not for the faint hearted Middlesex supporters but which ended in thrilling fashion. Well done for staying cool enough to give us a memorable report on a memorable day.
A day of fluctuating fortunes saw the mighty Middle secure a vital one wicket victory shortly before four o'clock on the last day at a balmy Edgbaston.
Both sides will look at chances they might have taken throughout the game, but our maligned tail managed to register enough runs at the end to get us over the line.
As at Chelmsford, I had attended days one and two and decided again to venture out for the final day, again fearful of what might materialise, although this time we had a chance of actually winning.
I sat down in the stand at the Pavilion end two balls into the day, with Clarke and Barker bowling for the Bears. We were looking relatively comfortable, despite a couple of optimistic appeals from the at times over zealous Clarke. However it was Barker who struck first when he snared Malan leg before for 32 - 54/3. Paul Stirling was next in and he clipped a few fours before being sent packing LBW by George Panayi. He made 15 and we were now 79/4 in the 26th over.
Nick Compton was looking in good touch. He was watchful but punished anything errant, especially down the leg side from the often wayward Rankin.He was one short of a crucial half century when he was deceived by the last ball of a Jeetan Patel over and was stumped by Ambrose. 122/5 after 36 overs.
Lunch was taken at 140/5 with John Simpson on 28 and Chucky Higgins 13. It was anyone's game.
After lunch, the boys kept reducing the target and we were quite productive towards the long boundary, where several threes and even a four were run, keeping the score ticking at a rate of more than three per over. The partnership had reached 48 when Porterfield took a catch diving forward and across from slip off Clarke to dismiss Simmo via bat and pad for 40 - 170/6 with 64 to get.
Ryan Higgins was playing in an exemplary fashion and produced his best first class innings. James Harris was also doing well and the pair had reached 23 when Harry feathered a catch to Ambrose off Rankin for 14 - 193/7. Ollie was next in and fended off a brute of a ball from Rankin first up. He settled in and looked more assured with the bat than he had of late.
Just as Higgo had looked like posting his maiden first class fifty, he popped a chance to Hain at short leg off Patel and was out for 45 - 210/8. The glum Warwickshire fans were now sensing a win, as was a happy Somerset supporter who was celebrating their fine victory over Yorkshire as well. Tom Helm was next man in and he struck a couple of crucial boundaries from Patel then Rankin to take us within seven runs of victory.
I wasn't convinced of the wisdom of Trott bringing back Rankin into the attack but he had Ollie leg before for 15. We were now 227/9 with seven runs needed and only Thousand Wickets Murtagh to come The tension was almost unbearable but Tom and the Lambeth Lara milked four singles from a Clarke over.
Three needed, and only one ball was required. Dial M drove Rankin through the covers and ran the required three, to much whooping from the Middlesex balcony and the few Middlesex fans.
Another terrific game of four day cricket and it was brilliant that we were on the right side of the result this time. I'm continually told that four day cricket is boring but I'm now looking forward to something a bit more sedate from Daniel Vettori and his team tomorrow at Cheltenham as I don't think I can take much more excitement.
Ended up typing this report in the Anchor in the less than salubrious Digbeth, to the background music of Whiskey in the Jar by Thin Lizzy and then Paint it Black by the Stones. Does life get any better ?