HIggins Big Tie Break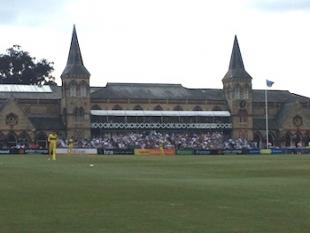 Anytning but sedate today
By Hackneyshire
July 8 2017
Our Glucestershire friend Hackneyshie gives us a local view of Middlesex's latest heart stopping adventures. We learn about local supporters, interesting traditions and some new chants. Sounds like fun.
First it was sunny in Cheltenham
Waking up in Cheltenham it looked like a bat first kind of a day, there wasn't a cloud in the sky. A few hours later we were somewhat surprised to leave the pub to clouds and humidity and rather less surprised that Middlesex had won the toss and decided to field.
Then it got cloudy
We reached the Churchdown tent and found Lord Powell in full seat carnage mode. We'd saved a few seats for The Lord, as well as others who were travelling up a few hours earlier, and had successfully conveyed this information to him via his preferred route (pigeon), but he'd been unable to resist the urge to cover up yet more seats with carrier bags. "Who are they for?" we asked, but predictably no one knew, so some lucky punters were selected for promotion into the front row.
Then carrier bags came in useful
Conversation turned to the weather. Chris the Coat admitted that he had gone two full days without a coat; this is the very barometer of summer. Then it was time for the traditional "number of foreign born players in each side" count and Middlesex edged Gloucestershire 5-4 (McCullum, Morgan, Higgins, Southee, Sowter v Klinger, Bancroft, Howell, Noema-Barnett). The names in that list were worrying the Churchdown faithful, we knew all about Middlesex's poor recent record against Gloucestershire but the team we were facing, that also included Malan and Roland-Jones, looked frighteningly strong.A surprised voice in the crowd expressed astonishment that Paul Stirling was opening the bowling for the visitors and then more when Klinger didn't hit the first ball for 6. Still, 14 came off the over and McCullum was doubtless asking himself why he'd bowled Stirling first up. Tolpuddle Tim wondered why McCullum was captain when the England T20 captain was also playing. No one could answer that, but Ian mused that the Kiwi would be excited by playing near Cheltenham racecourse as he loved horse racing.Toby Roland-Jones strayed close to the tent. Excellent, this gave us a chance to try out the song that (absent today) Hugh had penned for the his now-delayed test debut: "Papa was a Roland-Jones…" He seemed to like it. Meanwhile, stretching to stop a four Southee found himself in the midst of the Cow Corner Pub crowd, which was probably a good way of getting them on side. He was shortly in the game again, this time picking up what would usually be the vital wicket of Klinger (20), but the Gloucestershire captain had turned his ankle the previous over and was struggling to walk so how long he could have continued was debatable. Gloucestershire 31/1.Ian Cockbain joined Phil Mustard in the middle and promptly hit a flat six into the crowd. Gloucestershire continued to accumulate runs, aided and abetted by some poor fielding by Helm, and by the end of the powerplay were 56/1.The following over by Sowter started with three awful balls, the first two of which yielded 0 and 1 and the third with Mustard (26) being caught behind. Gloucestershire 57/2. It wasn't long before Cockbain joined him in the dugout, caught by Morgan off Helm for 20.France's greatest cricketer, Benny Howell, joined Cameron Bancroft at the crease and the two started building steadily, yet still bad balls were going unpunished far too regularly for the partisan crowd. Some light relief was provided when George Scott slipped in front of the Charlton Kings' tent, leading to predictable chants of oooooooooohhhhhhhh for the next few balls when he was close.
Howell and Bancroft reached their 50 partnership in the 14th over and Bancroft celebrated his own half century shortly after. It wasn't long before the partnership was broken though, with Roland-Jones dismissing Bancroft (51) after McCullum took a brilliant catch. Gloucestershire130/4.Jack Taylor joined Howell and the pair put on 28 before the Frenchman (33) was deceived by a Southee slower ball, with the Kiwi taking the catch off his own bowling. Gloucestershire 158/5 after 18.Kieran Noema-Barnett was next in, a man who rivals Paul Stirling in stature. We all agreed that it would be a fine session if you got in a boozer with that pair. Noema-Barnett promptly hit consecutive fours before a run-out chance was missed. Fleet of foot, Noema-Barnett we chanted. The pair put on an unbeaten 24, despite Jack Taylor never finding the big hitting form we've so often seen in the past and the home side finished on 182/5. No one was convinced this was enough, we'd hoped for 200+, would missing out on the bad balls cost Gloucestershire?
Paul Stirling - described by an unknown voice in the crowd as "that Irish bloke" - made it an opening double for Middlesex, and promptly hit a six off Matt Taylor's second ball. A huge lbw shout was turned down by Ian Blackwell, amidst murmurs of discontent, before Stirling (10) was bowled off the final ball of the eventful over. Middlesex 10/1.
McCullum joined Malan in the middle and after the second over there was little optimism in the Churchdown tent, "They'll get this in 14 overs," predicted one regular. Meanwhile, one of the Twenty20 day out merchants failed to understand fielding restrictions and berated an inside the circle fielder as "a useless piece of shit" for failing to catch an unreachable ball.
Gloucestershire launched something of a recovery, with Payne bowling McCullum (7) with the fifth ball of an excellent over, deceiving him with a slower ball. One captain was replaced by another with Eoin Morgan joining Malan.
In the tent it was Lord Powell who came to join us, complete with his latest carrier bag, which had once contained the Rangeworthy Manor turkey. "He's got the whole turkey in his bag," we sang, chickens just not being big enough for The Lord.
Middlesex reached 50 in the 6th over and were 50/2 after the end of the Powerplay.
The 7th and 8th overs both saw dismissals, with Payne catching Morgan (0) off Tom Smith Middlesex 53/3) and then sub Hankins catching Malan (36) off Howell. Middlesex 56/4.
The game was far from over though as Simpson and Scott started hitting out, with one Simpson six hitting a spectator in the stand, causing the Middlesex batsman to go over and check they were okay.
George Scott - unfortunate run out
Then things swung back Gloucestershire's way with two crazy run outs, first Simpson (15) and then in the following over Scott (24) leaving Middlesex 106/6. We wondered whether Scott's partner Higgins should have sacrificed himself as he had only just come in and Scott was looking strong, but what happened later would prove us all wrong. First came two brilliant catches: jack Taylor off his own bowling taking a swirling skied ball to dismiss Roland-Jones (8) and then Bancroft with a diving one handed effort to dismiss Southee (0) two balls later, leaving Middlesex 119/8 and – as far as many were concerned – out of the game. Indeed, the tannoy announcer suggested people should buy a celebratory drink after the seventh and "I am a cider drinker" rang out behind us.
Sensible people know not to celebrate too early though and Ryan Higgins had other ideas too, getting to 50 in the 19th over off just 27 balls and hitting five sixes and two fours in total. Eleven were needed off Howell's last over, which began with three singles, then a six and another single. Just one was required but, amazingly Sowter was caught by Tom Smith at cover. The game was tied, and we were all exhausted.
Higgins rightly took the MOTM award but credit to all the players in a really well-fought game, which provided tremendous entertainment for the sell-out crowd.