Hose Extinguishes our 20/20 Hopes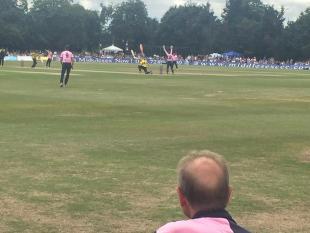 Hose put out
By Bsrmy Kev
July 16 2017
In front of what seemed like a virtual capacity crowd at Uxbridge Barmy Kev reports on a day from start to finish that was not working in our favour.
The day seemed doomed from the start. There was a pre arranged match drink at the Queens Head Uxbridge starting at noon. I was on time the pub was shut, I felt like banging on door before it eventually opened 12:10. After half an hour there two quality beers requested by Diamond+Rogers and Out were not available. Our West Country friends Dasher Denning and Hackneyshire had a pint of Strongbow and next round they had run out for our cider drinkers. Last night must have been a busy night. Alternatives were found and Merlot in supply for me. This set the tone for day.
We are chasing again, the Cidermen have put us in. 1st ball of day edged just wide of 2nd slip for 4 . 5th ball Stirlo drops one at first slip. It's 10-0 from 1st over and am feeling even more this might not be our day.
3rd over perhaps I'm being pessimistic. as Franco swooped like a Gazelle to catch Allenby off of Hi Fi's first ball. Same over Trego out 19-2! There is a recovery then first ball of the Rabbit's spell has Gregory bowled. It is 76-3 after 7 overs 200 looks par score.
Adam Hose has other ideas as spraying shots all over the plaoe and runs were not drying up. 15th from Mala ,which was suggested would be full of pies went for an economical 6. He was replaced by TRJ catch off of a no ball gives them some more momentum and is deflating for us. Higgo was also economical but only trusted 2 overs. 207 our target. Gettable with fast outfield and short boundaries not forgetting our Fab Four.
As our reply statred a dark ABU cloud appeared . There was heavy precipitation that got heavier indicating we may not have a result. Where is Nigel Cowley when we need him? We are back on.
McCullum played himself in with some dots 1st over before equalling his best this season out for 10 caught off of a gentle full toss. There was a chant of what a "waste of money" from some quarters around me on his way back to the pavilion. An odd dismal Mala stumped off of wide by giant keeper Blanton who was not even worthy of Playfair entry trying to look up just to find out how tall he was.
We really were never in contention. 26 off a Josh Daley over gave us some false hope.We were struggling to reach target and again chasing we are realistically trying to improve our goal difference.
Dasher Denning reminded me on way back home this was the first Somerset away 20/20 win since 26th June 2015. Against Middlesex at guess where? Uxbridge. I was grateful there was no can we play here every week to follow.