Big Mac served with scoop of Pickle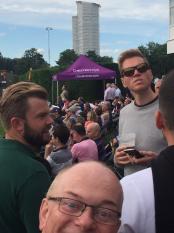 Where's the Pagoda
By Barmy Kev
July 20 2017
Barmy Kev reports on a shaky Middlesex win and the surrounding atmosphere that was primarily not facing the cricket.
The day started with me and Beefy meeting at the Railway Tavern putting the world to rights. We agreed to equal pay for our MTWD female reporters as we head off for Richmond. On arrival we were most disappointed the Pagoda backdrop was in wrapping paper ( see headline picture).
We met up with the Yorkshire one. He explained he arrived at the ground 4pm had a clear view of wicket and soon as match started 5 chaps each with beer in hand blocked his view. None of them were prepared to move or accept my offer of help with this match report.
So failing that here's my take on the day. Having been put in weput on 92 for our first wicket after 10 overs. Mala's preparation for a 5 day test match, his first of 3 20/20s in 4 days, is out for 33. Stirlo added a quick fire 14 and Eoin 28 for some more acceleration as he was walking back to pav some idiot flashed his score card and asked for his autograph. Higgo promoted didn't add many. We are still on for a 200+ plus score . On 88 McCullum played what I would describe as an ice cream cone scoop shoot bowled out for 88, when well set for a ton. This was shortly followed by a Coles hat trick that seemed unacknowleged by majority of 4,000 +crowd Our total 179 score looked too short. The 5 that blocked most of our views grew to ten juggling their drinks with their very young offspring not having witnessed one ball of whole of our whole innings.
Only here for rthe cricket??
Kent reply, the first over cost a single. 2nd over from Hi Fi a dropped catch followed by 2 wickets successive balls not quite another unnoticed hat trick. It's 2-2 in second over this looks good for us The same suspects of even more growing group in front even more oblivious by the situation
Kent accelerate and there is an expensive Helm over with 3 successive wides. Even after dangerous Billings out with run rate required slightly more than 10. This not a formality matches can be won from here. Blake was out for 20 more than 7, which gave us momerntum.
Then hatrick man Coles carelessly run out.A few dots followed and Kent can't get ball off of ground. The guy in front wearing a creased pink shirt who I'm sure never saw a ball for the whole game decided to start a "Middle" chant and I felt obliged to join in. I started one or two myself as our seamers were economical and match was ours.
It ended up an easy at the end 16 run win for us. There was a feeling of uneasiness amongst those in the know that this result paved over our cracks in this form. Personally speaking bring on proper cricket with fans who actually watch most of the game