To run or not to have a runner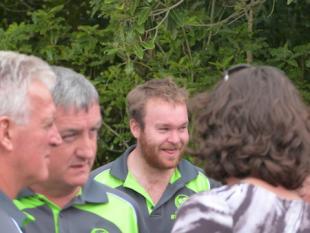 Didn't get a runner
By Jonathan Winsky
July 22 2017
JW gives us a detailed report on the match at the Oal. along with snippets gleamed from Sky. Running and runs out dominate the story but in the end we did not get enough runs. Nothing new there. Thanks JW for braving to report on this trip down south.
I arrived in my seat at the very back of the Peter May stand just in time for the toss, which Brendon McCullum lost for the fifth match running (although he did win in the opening match of the campaign). Surrey's Gareth Batty elected to bat, and the first thing he was asked by Sky's Nasser Hussein was how great it was that Kevin Pietersen passed his fitness test on the calf injury he sustained in scoring 52 on the same pitch v Essex two days previously. McCullum said that he would have batted had he won the toss, and that Middlesex's only change from the previous evening's win v Kent at Richmond was Toby Roland-Jones replacing Tom Helm.
As that match v Essex saw Surrey win by 10 runs after posting 150-9, I anticipated that this match would be similarly as low-scoring. However, when Jason Roy and Aaron Finch took Surrey to 66-0 after the 6-over Powerplay, a huge total seemed likely. Thankfully, the 7th over saw Nathan Sowter dismiss Roy for 29, who was caught by Dawid Malan on the boundary, and just two runs came from the over. This brought in Pietersen to much fanfare.
The next over, bowled by Steven Finn, also saw two runs and a wicket, as Finch assumed that he and KP would run a single, only for KP to feel unable to run as a result of a recurrence of his calf injury, which meant Finch had to turn back after running three-quarters of the way down of the pitch, which enabled TRJ to throw the ball to Finn, who broke the stumps to run out Finch for 40. The throw from TRJ looked too high, and I couldn't believe that Finch had failed to make his ground when I watched the incident in the flesh then when I saw a replay on the big screen (although having seen subsequent replays, it is clear that Finch was out). Therefore, when a long delay followed, I assumed that the third umpire had realised that he had made a mistake and thus recalled Finch, especially as no announcements were made about what has happening. A dismissed batsman did indeed return to the action, although it turned out that it was Roy, who would act as runner for KP.
The runs were slowing, and KP's 9-ball innings, in which he scored just 4, ended in the 10th over, when he was caught by TRJ off Finn. At the end of that over, Surrey were 80-3, making their score in the 4 overs after the Powerplay 14-3. Most of the overs around this time were bowled by Finn and Sowter, who both conceded just 19 from their four overs. Before he was bowled out, Sowter had Kumar Sangakkara caught by Eoin Morgan for 18. At this stage, Surrey were 97-4 with seven overs remaining. Tim Southee and TRJ both had two overs to bowl, so the question was who would bowl the three other overs. Malan came on, and conceded 6 and 4 off his first 2 overs. I assumed that rather than giving Malan a third over, we would bowl Ryan Higgins for an over, especially as he bowled the last over at Richmond and conceded just 4, but instead Malan continued and conceded 17, although Higgins got in the action by catching Ollie Pope off the last ball of the over for 31 to take the score to 142-5 with two overs remaining. We kept Surrey to 14 runs in the remaining overs, with Sam Curran being caught by Finn off Southee for 1, and Dominic Sibley being caught by John Simpson off TRJ off the final ball of the innings for 23. They finished on 156-7, which was a great comeback by Middlesex considering 66 runs came in the Powerplay.
It would have been nice had McCullum continued from where he left off when scoring 88 the previous evening at Richmond, but he failed to score, and was caught on the boundary by Roy off the final ball of the first over, which Jade Dernbach bowled. Paul Stirling then appeared set to come in, and it was a surprise when he turned back and Eoin Morgan came out instead, as I was sure there is a law saying that once a new batsman has crossed the boundary rope, a change cannot be made to the order. However, I later learnt that Stirlo didn't field for all of Surrey's innings due to an injury and could therefore not bat until 10 minutes into our innings. Only 6 runs came off the first two overs of our reply, but the next over saw Morgan hit Dernbach for a 4 and a 6 in successive balls to boost our run rate. 8 was scored in the 4th over, but the next over saw Malan caught by Stuart Meaker off Sam Curran for 12 to leave us 26-2 after 4.3 overs.
Stirlo then came in, and it was at this point that I realised he had an injury, as McCullum came out too as runner. We ended the Powerplay on 38-2. 2 balls after the Powerplay ended, Stirlo was caught by Finch off Meaker for 6, which meant the match seemed to be drifting away from us, as the rate required was climbing, and three of our vaunted top four were out. Morgan and James Franklin then saw us through the next 5.1 overs, although only 28 was scored in this time (of which 5 were wides), before Morgan was caught by Tom Curran off Batty for 32 to leave us 67-4 after 11.3 overs and needed to go at 10.59 an over, which further increased when Meaker's final over went for only 6 to make him the third bowler in the match to concede 19 off 4 overs. Batty's final over seemed to be going well when 10 was scored off the first 4 balls, and Higgins tried to make it even better by attempting to clear the boundary off the penultimate ball, only to be caught by Meaker. After 9 was scored in the 15th over, the next over saw Simpson and Franklin hit a six apiece to leave us needing 47 off the last 24 balls. The equation became 34 off 16, before Simpson was bowled by Sam Curran for 27 off 16. Franklin hit a six off the penultimate ball of the over, and tried to do it again off the final ball. Had he succeeded, we would have required 21 off 12 with 4 wickets remaining, but he was instead caught by Meaker, which changed the equation considerably and was thus a big point in the match. TRJ and Southee were unable to threaten to score the 27 required, despite a no ball being called against Dernbach for height to give us a free fit, so Surrey won by 15 runs.
I can't help feeling that the match may have been different had Malan not bowled a 3rd over and if Franklin was able to clear the boundary rather be caught. It is a disappointment that our win at Richmond has been cancelled out. I felt that we needed to win two of this set of three matches to keep everyone confident that we can qualify for the quarter-finals and to avoid having to win most of our final seven group matches, which makes Sunday's match v Somerset at Taunton very important. I don't know whether Stirlo's injury may rule him out a Taunton. To miss any of our top four would be a big blow, although it is not like they were expected to play every match, as Stirlo is due to miss matches on 15th and 18th August due to Ireland duty, McCullum has signed for only nine group matches, and Malan could play for England. I imagine that George Scott would be the likeliest replacement for Stirlo (albeit probably batting down the down) considering he has already played in this campaign, and he scored 212 not out for the 2nd XI this week. However, I believe that Stevie Eskinazi could also bring something to the side.
Whatever we think of Surrey, they have to be applauded for their success at attracting people to Twenty20 cricket, although it would have been nice to have not have seen adverts for their matches at Underground stations which very much fall within Middlesex territory. As Surrey knew the match would sell out, I had to enter a ballot to get a ticket, although I don't think the ballot attracted enough people for it to be doubtful that I would get a ticket. I purposely chose a seat at the back of the Peter May stand in the hope that I would get a good view, and I more or less did, although the people in front of me were more interested in standing up to talk to each other than having concern about how the match was progressing.