Tom at the Helm as Middlesex cruise to victory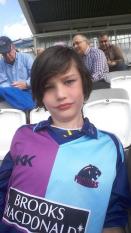 New Ace reporter
By William Fozzie
July 28 2017
William, connected to Fozzie, gives us a brilliant report on an brilliant night for Middlesex. Alongside the match we get good observations about Lords, the Fab Four and cricket rituals. And we never lose when William comes. So please come again.
I went with my dad and Grandpa and Granny Fozzie to see Middlesex play Essex at T20. I've seen Middlesex play twice before, and they always win because they're really good. Grandpa said actually they're bottom of their group; but he's getting on a bit and gets a bit confused sometimes.
I wore my Middlesex shirt signed by Ravi Patel. Ravi took lots of wickets at the last game I saw, but Grandpa said he wasn't playing today. I thought that was a shame and maybe a mistake, but Grandpa laughed and said "Spin to win, eh Shots?", which was puzzling but sounds like a good idea.
Dad was rather worried about the strict instructions about being smart enough to sit in the members' enclosures, but all the stewards were friendly and we went to the Upper Tavern stand, where we had a great view of the ground. We got out all the food we had brought with us, and basically carried on eating right until the game finished. I've learned that this is an important part of cricket, and it's one of which I fully approve!
Middlesex have a fab four who strike fear into every other team, though only two were actually playing in this match. McCullum started, and spent some time early on swinging his bat at the ball and missing it. Everybody groaned. Then he hit the ball right back at Walter, who dropped it, and everybody started muttering. Then he hit the ball very hard and high a lot of times, once into the crowd near us. I kept waving my 6 card, and everybody cheered and said "Well done, Mac!". Gubbo also tried hitting the ball hard and high, but he wasn't as good at it as Mac and was caught. Then Simmo came in and mostly at first watched Mac enjoying himself hitting boundaries until he was caught for 63. Simmo and Morgan then hit a lot of boundaries, and it looked as though Middlesex would get a huge score until Lawrence came on to bowl. Grandpa said that was a sign of desperation because he doesn't bowl much, and he has a very funny run up to the wicket, with a jump like a kangaroo. Anyway, it obviously confused the Middlesex batsmen, because Lawrence quickly took 3 wickets, and Grandpa started muttering about clusters. We stopped hitting boundaries until a very exciting final over which had 6s by three different batsmen as well as a wicket, and Middlesex finished on 203, which I thought was a very good score.
Simmo scored 51, and I thought he must be one of the fab four. But Grandpa said no, he isn't, which I think is a bit unfair.
In the break between innings I joined the longest toilet queue I have ever seen, which meant that I missed the first Essex batsman getting out. Then Finny bowled, but Lawrence kept flicking the ball for boundaries so Tom Helm came on to bowl. Granny and Grandpa especially like Tom because he comes from Chesham, and when he got Chopra out straightaway they were very pleased. Then Lawrence tried to hit Finny for another 6, but the ball went high in the air and Morgan took a very good catch over his shoulder, and everyone rushed over to hug him, and Finny looked rather relieved. Essex started losing a lot of wickets, and I had a big laugh when the batsmen had a mix-up and Bopara was run out. And Morgan took four catches!
Then Essex started scoring some runs, though the nice thing about that was that my name was up on the scoreboard for a long time because their top scorer is another Fozzie. Grandpa got a bit twitchy, but I knew we would be all right because I was carefully watching the scoreboard where it showed how many runs Essex needed to score each over, and it was going up very quickly. Then Tom came back to bowl, and he quickly took all the rest of the wickets, with lots more good catches. We all stood up to cheer him off the field.
This was the best cricket match I've been to yet, with lots of sixes and catches, and Middlesex winning by a lot of runs. We got soaked walking back to the station, and my inflatable clappers went a bit flat, but everything else was great. Finals Day is on 2 September, and I'm going to ask Grandpa to take me to see Middlesex win!
Lovely sunset at Lords.
You can see a few more pictures from Lords here
View a Printer Friendly version of this Story.
Tom at the Helm as Middlesex cruise to victory
Middlesex till we die (IP Logged)
28/07/2017 18:44
What do you think? You can have your say by posting below.
If you do not already have an account
Click here to Register
.
Edited 1 time(s). Last edit at 2017:08:01:00:00:28 by BarmierKev.
Re: Tom at the Helm as Middlesex cruise to victory
28/07/2017 21:31
Very good report, young Fozie.

Re the first line of the 5th paragraph. 'Middlesex have a Fab four that strikes fear in to every other team'.

Did you mean 'every other team' as in the 8 other teams in our group not called Middlesex- or every other team as in 4 out of 8 of the teams not called Middlesex.

The latter more accurate, I suspect.
Sorry, only registered users may post in this forum.