Marshes Bog England Down As Our Hopes Are Sunk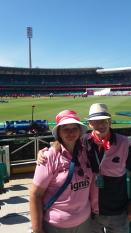 Pinky and Perky
By Fozzie
January 12 2018
Fozzie reports on days 3 and 4 of our Ashes defeat. we hear about a link to Merchant Taylor's, a wonderful charitable cause well supported and retrearts from the sun , while reading about Englands inevitable demise.
SYDNEY TEST, DAYS 3-4
I would never have thought that the SCG would make me think of Old Merchant Taylor's – but it turns out to be situated at Moor Park! Mrs Fozzie and I made our way there for Day 3, which turned out to be a memorable occasion, although not because of the cricket.
This was the 10th anniversary of the Saturday of the Sydney Test being designated Jane McGrath Day in memory of the late wife of Glenn, and it was apparent that the city has taken the occasion and the McGrath Foundation, the charity set up by the McGraths to fund specialist breast care nurses across Australia, to its heart. To date the Foundation has funded 119 nurses, and it was looking to raise $1.3m across the course of the Test to fund ten more. The whole ground was a sea of pink, and Mrs Fozzie and I had packed our Panthers shirts (2011 vintage) specifically for this day. It was wonderful to be part of this great occasion, and by the end of day 4 the Foundation was on the verge of meeting its target.
Closing in on target
We were seated in the lower tier of the new Grandstand, next to the Members Stand. This was not under cover, but at the start of play the sun was behind the stand and it felt very pleasant to be in the open air. Meanwhile Khawaja and Smith carried on as before. I remember Usman Khawaga in 2013 being regarded rather as James Vince is now – an elegant strokemaker, but rather rash and flakey to be a sound number 3. He certainly seems to have taken the criticism to heart, moving inexorably on to his century. (In fact as I have been writing this I've been watching Khawaja score a brilliant 85 in 51 balls for Perth in T20, showing an impressive ability to adapt his game as required). Nothing seemed more certain than that Smith would also reach three figures, but at 274, with the double-century partnership looming, he provided Moheen with a smart caught-and-bowled. It was difficult to decide which of the two looked more surprised.
At this point England still led by over 70, and in the following over Mason Crane hit Khawaja on the pads. It looked a good shout, and England reviewed the not out decision, only to find that Crane had overstepped. (There seems to be a pattern here among England bowlers – when is the next bowling coach due to be appointed?). Crane had initially been greeted very warmly, having played a match for New South Wales at the SCG the previous season; but the crowd had become increasingly irritated by him regularly aborting his run-up, and the no ball was celebrated vociferously. I couldn't help sympathizing with their irritation, imagining the potential impact on the over rate if Crane was playing for Middlesex...
Lunch arrived with no further alarms for Khawaja and Sean Marsh, and immediately after the interval the sun duly appeared from behind the grandstand to beat down on us. Our whole bay quickly thinned out; nor was it only pale-skinned Poms that headed for the shade, for before long a row of bronzed young Aussies also decided that one could have too much of a good thing. As it was a full house there were no seats under cover to be had, so for a time we simply watched from the concourse area at the back of the stand before heading to the open food and drink area at the top of the grandstand – nice and breezy, and a fantastic view.
Grandstand view
In truth, though, the cricket was far from compelling, as the two batsmen dug in and accumulated throughout the afternoon session. At tea we headed off to the SCG Museum (air-conditioned!), which unlike Lord's was free and where the stewards were also not what we were used to ("Do come in! Welcome!"). Not much had happened on the field when we emerged, and we settled down in a comfortable and shady bar area to watch on a big screen. There we saw the day's best moment, when Crane saw Khawaja coming down the wicket and floated a wide one for Bairstow to complete the stumping. Mitchell Marsh then accelerated the strike rate, but by that time we had left, lured by the thought of the swimming pool at home. I'm not sure whether that made us fairweather or too-much-fairweather supporters.
So it was an attritional and not particularly exciting day's cricket. In fairness to England, although their bowling other than the admirable Anderson lacked threat everyone bowled tidily and stuck to their task. The fielding never flagged, and morale stayed high. But Darren Lehmann, Australia's coach, said later that the plan for the series had been to bat for long periods in order to exhaust Anderson and Broad while giving their own fast bowlers plenty of time to rest, and this they certainly achieved. At the same time the scoring rate has been the lowest in an Ashes series for over 20 years.
Not memorable cricket, then. But a memorable day at the cricket, because of the special atmosphere of Jane McGrath Day and the weather – with even hotter temperatures forecast for the following day.
Day 4
The two main talking points at the start of play were how hot would it get, and would the Marsh brothers both get centuries. Sean opened on 98, played the first four balls of the day from Moheen cautiously, reached his century with a boundary and then added another for good measure. And that was an indication of how the day would proceed – whereas on the previous day England were restricting boundaries to a minimum, they now became more frequent as the batsmen applied pressure and the fielders tired.
Mitchell Marsh had changed the tempo of the innings, and he moved through the 90s effortlessly, taking 10 off an over from Broad to reach 99. Next over he clipped Curran for 2 and midway through the second run the brothers embraced in celebration of Mitchell's century before remembering to complete the run and avoid what would have been an extraordinary run out. Mitchell then received standing ovations in consecutive balls as Curran bowled him and wheeled away in joy. Whether Curran really is Test class remains to be seen, but his attitude appears excellent.
The afternoon got underway with news that Sydney was experiencing its hottest day since 1939, with a recorded temperature of 47 degrees. It was a mere 42 at the SCG, though the pitchside thermometer registered no less than 57. We were sitting in the middle of the Grandstand, right behind the bowler's arm; and although the temperature was some 10 degrees higher than the previous day we never felt uncomfortable. It really is a lovely modern stand, gracefully arcing round the end of the ground and with a roof arched high above that allows breezes to circulate. There are extensive food and drink outlets with decent viewing areas on each level, and the only gripe was the eye-watering prices charged, such as €10 (about £7) for a small beer.
Meanwhile a halt wax finally called to the carnage at 649-7, a first innings lead of 303. Moheen took 2-170, which actually improved his bowling average for the series, while Crane's 1-193 represented the most runs ever conceded by an England debutant. There were still encouraging noises made about his potential, though with Hampshire having no 4-day matches for nearly two months at the height of summer next season it's hard to see how he can fully achieve this.
It was impossible not to feel sympathy for Cook and Stoneman as they dashed off the pitch after 2 days in the field to prepare to face a well-rested Australian attack. Stoneman went quickly for 0 and wasted a review in the process – it was hardly surprising if his decision-making processes were rather addled. Cook should have joined him immediately but was the beneficiary of yet another straightforward missed chance; instead he hung around just long enough to score his 12,000th run in Test cricket, but was then bamboozled by Lyons. Vince survived till after tea but not for long, and you can guess how he was dismissed.
So at 43-3 Dawid came out once more to partner Root, who was looking in good touch and with the air of someone who was relieved to be able to focus on what he does best. The situation was hopeless, but the pair at least restored calm to the situation and dispelled any excited talk of Australia finishing the job that day. They had batted together for over an hour when Mala, who was looking comfortable against the seamers but less so against Lyons, went back to the spinner when he probably should have played forward and was adjudged LBW. He trudged off, looking weary and disappointed, his series at an end. But Mala had no reason to reproach himself – he finished as England's highest run-scorer and the only tourist to exceed expectations, and had shown a willingness to fight to the end. I felt proud to have been there to see him.
End of Series. Well played Mala. MTWD are proud of you.
We were travelling to Melbourne the next day, having guessed correctly that the final day would not be a thriller. The cricket was rarely scintillating and was a disappointment for England supporters. Nevertheless, it was a thrill to experience this great ground and the atmosphere it generates, particularly on Jane McGrath Day. And it felt particularly special to see Middlesex's Dawid Malan giving his all for England.
View a Printer Friendly version of this Story.
Marshes Bog England Down As Our Hopes Are Sunk
Middlesex till we die (IP Logged)
12/01/2018 11:56
What do you think? You can have your say by posting below.
If you do not already have an account
Click here to Register
.
Edited 1 time(s). Last edit at 2018:01:24:16:37:08 by Leprechaun.
Re: Marshes Bog England Down As Our Hopes Are Sunk
12/01/2018 12:20
We are truly grateful to Fozzie for detailed report and marvellous pictures. Enjoy rest of your trip and send some sunshine over here please.


---

Barmy Kev
I'm only here for the tele
Sorry, only registered users may post in this forum.