A Sobersing thought at end of Seaxe AGM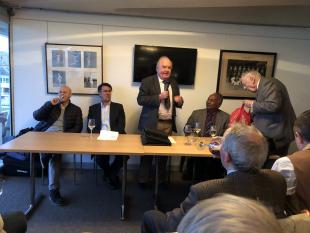 Top Panel
By Barmy Kev
April 8 2018
Kev reports on an amusing and revealing Q & A session with three of our past players
After the Seaxe AGM, which I find marginally more exciting than the official MCCC one, those remaining had the privilege of a Q & A involving Harry (The Latch) Latchman, Nigel (Roscoe) Ross and David (Knocker) Nash.
Roscoe mentioned in his playing day between 1973-77 he regretted having not much of a connection with our players and supporters. He now has a link with ex players and is trying to redress this. In his opening comment he mentioned how The Latch was proud of his googlies. These were so good that the first time they played together 3 successive balls went for byes. He compared himself to Michael Jackson- he wears gloves and nobody knows why. He announced Knocker's batting average of 35 indicating he could of made a career as a specialist batsman.
Knocker thanked the Seaxe Club for their support in his early years. They were able to fund his trip to South Africa in his youth, which was a stepping-stone for his cricket development. Without this, his career path may have been different.
First question was on the future of test cricket. The panel agreed Test cricket will be curtailed but won't die. Concerns grounds up North poorly attended while in London they are always sold out. Players opting out concentrating on while ball dilutes test cricket. A panellist stated perhaps more white ball rather than tests was met with some muted booing
We moved onto to County game which was agreed needs to carry on despite recent developments. There was a poll to the audience of preference for 5 day v 4 day tests and 4 day v 3 day County Championship games. It was unanimous to keep as it is. A member of audience shouted out "but then again we are all old."
There was a question on batting technique. Knocker said today there is emphasis on players playing shots rather than getting bogged down. For example today at lunch teams would rather be 91-3, then say 63-1. He stated he liked to play himself in and not chasing wide balls.
Over rate issue was raised not necessarily in a Middlesex context. Panel stated this currently not good enough especially in test cricket. It's down to the ICC and Strauss to impose penalties. Also we need more spinners and option to take new ball to have extended period e.g. 100 overs.
An ex umpire asked about modern day cricketer's behaviour. Knocker said on field niggles are normal and part of game. However, these days' players often cross the line and there is a lack of humour. The Latch mentioned sin bins for miscreant players and umpires should have more power. Knocker highlighted the late Ray Wilkins someone he knew as a class act on and off the field and an example of how to conduct oneself. As for David Warner, well lets just say the comments about this ex Middlesex player were non too complimentary. Alan Ashton chairing stated Lord's should not have named a stand after him.
I asked Roscoe and Knocker about their respective rivalry with Ian Gould and Ben Scott. Roscoe said as Gould was coming through the ranks his fingers were becoming brittle and accepted he would lose his place as keeper. He had a go as specialist batsman that did not work out. Knocker stated he had healthy rivalry with Scottie who is still his friend. He never wanted him to fail and just wanted to concentrate on his own game even if it was for the seconds. He acknowledged Scottie was one of best keepers standing up and his batting prevented him gaining England place. Both Roscoe and Knocker shared with the audience at times there were some mentally tough moments.
Moving forward, Knocker referred to Gus's role within the club. He lives and sleeps Middlesex and feels the same joy and pain in the same way as all our fans. We need to back him to help us return to success, which he predicted would happen in three years time. Applause followed.
Roscoe ended up with another amusing story. Playing as specialist batsman at no. 6 against Notts with Gary Sobers in side. Last ball of day a wicket went down and he was due in first thing in the morning likely to face Gary Sobers. To him it was like playing golf with Jack Nicklaus, tennis against Bjorn Borg. He had restless night thinking about this prospect and was practising shots in mirror. First ball against Sir Gary was a straight drive to mid off, quick single and he was run out. The walk back to the pavilion seemed a long one. As he returned a member stated he looked good until he was out.
The conversations continued in the Tavern. It was great to be with these guys and I appreciate their openness about all matters.
View a Printer Friendly version of this Story.
A Sobersing thought at end of Seaxe AGM
Middlesex till we die (IP Logged)
08/04/2018 10:57
What do you think? You can have your say by posting below.
If you do not already have an account
Click here to Register
.
Edited 1 time(s). Last edit at 2018:04:10:08:37:03 by BarmierKev.
Re: A Sobersing thought at end of the Seaxe AGM
18/04/2018 10:15
An excellent report from Barmy Kevan. I liked Seaxe President Alan Ashton's witty rewriting of history. Arise Sir David Warner! Quite a stand.

It is important to offer a platform to our former cricketers while it is still possible. We have much to learn from our friends.

David Nash has always demonstrated the 'Spirit of Cricket' since his boyhood. Do not forget that he was a greatly underestimated wicketkeeper-batsman.
Sorry, only registered users may post in this forum.