This Season Seen in a New Light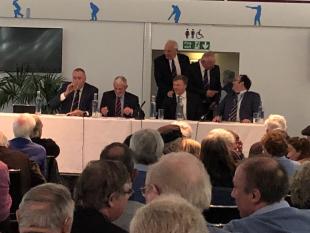 All change
By Barmy Kev
April 12 2018
I could not make the very start of the AGM. Before I arrived I received a text from Beefy announcing we are allowed floodlights for every County Championship game at Lord's. I checked today was not 1st April.
I arrived during the formal AGM stuff about accounts etc. This is all confidential so ECB are let off the hook by MTWD this time.
Our forum with Richard Scott, Robbo, Gus, Richard Goatley and Mike O'Farrell on top table.
Gus opened with heart on sleeve. There was a review in October. Major matter from it was captaincy. He asked Dawid to captain for us just before Perth Test (where he made a ton) knowing he will be missing for most of season. Robbo he felt is able deputy.
Robbo was asked as vice captain would the added pressure affect him. He said he will benefit from it and will give him extra motivation. Recent years his end of season his form has dropped and new role may help his focus.
Compo. He is 34 years old and it would be good to give our youngsters a chance-moving forward in 2nd division (no questions on his benefit and his exact role for us)
Injuries update. Gubbins hoping he will be fit for 3rd game. Moggy probably 4th game, allegedly he was really up for 6 games he was available for. Hi Fi dodgy knees may be rested. Of course Mala is rested for two games courtesy of ECB, cheers.
Gus- There was meeting at Edgbaston meeting Monday with 17 Directors of Cricket present (Essex missing) on how to keep County cricket interesting. Nothing set up but was unaminously agreed need to encourage red ball game.
Slow over rate. We have huddles and meetings about it. Not easy when Hi Fi and TRJ are in tandem
Discipline- our record good.
Mystery signing? Due to injuries needed batsman. Hilton fitted the bill.
No questions regarding last year, which pleased me. We are moving on.
Closing- Gus turned down England selector role as preferred to stay at Middlesex.
At social where I managed some pre season wine-drinking practise someone confirmed we have floodlights for all games. This was pleasing to hear.
Here's to a positive season. Cheers.