Day Light Robbiery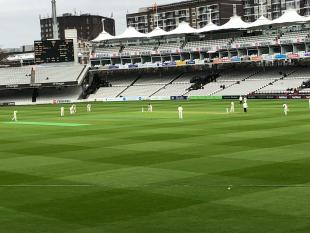 These stands were open
By Barmy Kev
April 13 2018
Kev reports on first day of the season where we fought back but were frustrated by bad light under lights.
I arrive at Lord's on time for start seeing we are playing under floodlights. If only these were available last season. OK time to move on, at least a full day's play on and not to worry about the colder than expected temperatures.
Our season has started we are 21-0, Holden having just survived a strong appeal for caught behind. Next ball he is out caught at slip. On debut Robbie White (last minute replacing the ill Eski) leaves first ball that cuts back and is bowled. Cries of "division 3 here we come " heard from the Upper Compo. Biggest cheer of day hat trick ball Hilton hits a two. He makes a quick fire 30 until bowled. The 3rd wicket takes Northants top of league.
Robbo really digging in Godleman style out for 14 just before lunch, LBW that looked high. 64-4 at lunch with ball moving all over the place score not as bad as the Ceefax view. I was looking forward to us bowling at them just after tea.
After lunch I moved from the freezing Compo to the relative sub tropical Warner. There was a let off for Simmo with dropped catch in deep by Sanderson, the guy who took two wickets in a row, After that Simmo and Stirling batted with ease and I was relaxing looking forward to day ahead with match now evenly poised.
Then from nowhere with light seemingly better than at start of play, it was difficult to work out why they went off for bad light with floodlights at full blast and light conditions seemingly no worse than all day. There was an announcement something about lights being an enhancement not a replacement that made no sense to me.
We headed for Warner Stand Bar and watched some IPL stuff on TV. Dan Vettori managing one of the teams was very animated obviously concerned about the events at Lord's.
At just after 5:20 when most had given up there was an announcement that with 21 overs left play would resume in 20 minutes. WTF did we have to wait this long.
In front of one man and his dog we survived for a few more overs. It was called off due to light being … don't ask. Northants are -2 on over rate and now bottom of league
Let's take positives. As always enjoyed the company, we are in good position in game on what likes a result wicket. Floodlight permitting.