Northants Harrissed and Murtaghed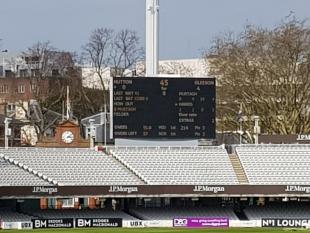 Pleasant sight
By Dingy Bags
April 15 2018
Dingy reporrts on a day of a wicket fest.
Arriving at Lord's in coat, scarf, muffler, gloves and hot water bottle, I was startled to see a bright yellow thing in the sky and to feel the temperature rather higher than artic. The sun stayed out, too, until late in an evening session that was going to be mammoth but a solitary cloud beat the dusk to it and we all went home, the Wembley crows then largely off the tube lines.
An extended day was promised with sessions planned for 2 hours and 10 minutes, although events conspired to alter this. I thought 136-4 was pretty good on Friday, with par about 170. However, Stirlo, whose approached had impressed on Friday, seemed far more skittish, carving a four over the slips before being given out caught behind on the walk, a decision he looked distinctly dischuffed by. Given that Simmo was lbw almost immediately afterwards – so out that he almost did not wait for Baldwin's finger to go up – 170 looked still a bit away. However, Harris, promoted to the all-rounders position of no 7, batted beautifully with the tail so that we actually achieved a batting point. His straight driving, crisp and powerful, was a notable feature. Northants dropped Toby, a regulation chance at first slip, with the score on 157 and, though he was out at 174, those runs still seemed crucial and Harry benefitted from the extra time to find his shots. 214 seemed a good score, even with clearer skies, because it was still doing plenty. Five-for for the captured outlaw Hutton, who seemed very pleased to achieve the feat. Over to our bowlers.
We were curious as to when tea would be taken: the original 1.10 lunch had been extended still further because we were 9 down, so we had little idea – the rules for the tea interval, of course, are far more complex than those for lbw. Anyway, we solved that particular problem by bowling them out in little more than 20 overs and well under two hours. We bowled straight, always the key on an iffy wicket, so that six of the dismissals were bowled or lbw, and we caught everything that came our way, Stirlo's effort diving forward at point was particularly memorable. Murtagh started the collapse straight away – with his skills on a wicket giving help he could play until he is 67. However it was Harry, perhaps drawing on the confidence gained from top-scoring (or was it the frustration of missing a fifty?), who caught the eye of spectators and statisticians taking three wickets in his first eleven balls before conceding a run. Indeed, it was only an edged 4 that stopped figures that could have looked something like 5 overs, 5 wickets, 5 runs. Nice to be able to worry about things like this.
Northants just saved the follow-on and it would have been interesting to see whether we would have enforced it, only three bowlers having bowled and the pitch doing plenty but potentially flattening out a bit in the sunshine. We all remember the first home game last year…
However, we came out to bat after tea with Northants facing a monster stint, although the light was likely to go before the close, which could have been about 7.45! When Holden and White took the score past 50, at about 4 an over, we were sitting pretty. It was great to see these young men out there doing this, Max's late-cutting a particular delight. However, we then lost 4 wicket for 3 runs – it is that kind of pitch. One little criticism: unlike in the first innings, some of our batsmen got themselves out. I won't name them and it is perhaps understandable to go for your shots on a track like this but at 112-9 our lead, though comfortable, was not as huge as we would like. Fortunately, Helm and Murtagh, the former playing some meaty straight drives and the latter Lambeth-Laraing the ball to all parts took it over 300. Murtagh even hit a six but not even he could tell you how exactly. Perhaps he is competing with Harry for the all-rounder slot. Northants -3 on the over rate, with five seamers taking wickets and absolutely no sign of any urgency. They deserve to lose points.
It was now gloomy and the lights were on. We were not sure if they would come out at all for the last dig. But they did, for two overs (our over rate a red zero) which was long enough to take us to the scheduled 7.00 close and past the peak time for football fans to get to Wembley.
I think we have left Northants with just a squeak of getting these runs but the wicket remains very bowler-friendly and no one has scored a 50 – yet.