Dial 999 for Middlesex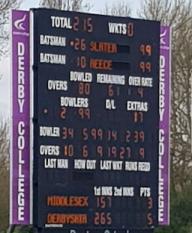 Lots of 9s
By Beefy
April 23 2018
Another mercifully concise report from Beefy on a day when we resembled a Casualty department. Lots of patience rather then patients needed on the last day. Thanks to Beefy for enduring this for us
We learn on arrival today,that Harris and TRJ are both missing due to injury and replaced by Eskinazi and Scott; how many more injuries will we get?! Helm and Murts bowling,and Derby are very slow with runs.Are the opening batsmen looking to blunt our diminishing,injury hit attack?
Bowling changes take place,and Rayner replaces Helm at the racecourse end and Cartwright for Murts. Huge appeal from Robbo for a catch from Reece off Ollie,umpire unmoved and score is 167-0 A lead of 276. The lights come on as it's getting murky, we have a short shower as clouds move in from the west. We go off at 171-0 and take an early lunch.
Slater and Reece are still in,the 200 partnership arrives and both are in nervous 90's. Seems like ages and both are now on 99,the race is on for first to a ton. Reece,who at one stage was 20 odd runs behind Slater,gets there first. Reece kept on facing bowler and Slater didn't get the chance to get a ton as well. He goes for 99 caught by Holden off Rayner.
Derby lead by 239. Stirlo now replaces Cartwright at City End and Holden takes over from Rayner. 7th bowler used in Derby 2nd inns. 292-1 And Derby have 400 lead,surely this is enough? At tea,Derby are 315-1,a lead of 423. Declaration? Nope,still carry on batting! 320-2,yep,a wicket for Stirlo but i missed it as walking back to seats; just our luck! 332-3; Super Stirlo takes another. Brings in Billy G,but innings didn't last much longer. They reach 333-3 And they declare. Reece 157 no
So,we need 442 to win,29 overs today. We lose first important wicket as Robbo is done lbw.28-1 Was getting a bit nippy,so Phil,Paul and myself emigrate to members area. White,sadly didn't last long,and is back in pavilion for 1 run,lbw Olivier. It's 36-2 We finish on 86-3 And face a long,hard day tomorrow to salvage the draw.