A Donald Duck drives us quackers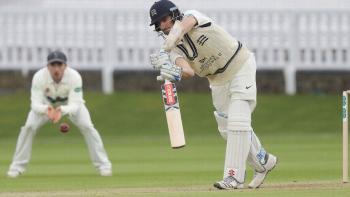 Eski digging in
By Jonathan Winsky
April 29 2018
Jonathan reports on a day speculating on anearly decalartion, whether we can achieve a batting point or a bowing point. In between we hear of announcer going crackers with announcement of A Donald

Due to Watford's match away to Spurs being moved to Monday night, I had been hopeful that I could attend two days of Middlesex v Glamorgan at Lord's. However, yesterday didn't see a ball bowled despite there not being much rain, although I felt confident that there would be little disruption today.

With there only being 16.1 overs bowled on day one and nothing yesterday, and with tomorrow unlikely to see a ball bowled, the main plot of this match was how many bonus points the teams could achieve today.

When I arrived with Lower Mound (my dad), another spectator speculated that we may have declared on our overnight score of 64-3, as he noticed that the roller had been used. An overnight declaration would have given us more time to achieve bowling points, and deny Glamorgan their final two bowling points, but it was clear that we had not taken this decision when Stevie Eskinazi and Hilton Cartwright came out to resume their innings.

The fourth over of the day saw Eski hit successive boundaries off Lukas Carey (including one towards the Grand stand where the ball had to be retrieved from a pipe), before he ran a single to enable Cartwright to hit a boundary off the final ball of the over. However, the following over saw Cartwright bowled by Michael Hogan for 5 after not playing a shot. If Cartwright is given more time, I am sure the runs will come, but it seems that he has only been signed until our injuries clear up.

Eski was scoring quickly and brought up his 50 off 58 balls with 8 fours, and then hit three more fours in an over off Carey, only for the following over to see Paul Stirling edging Hogan to wicket-keeper Chris Cooke on 1 to leave us 104-5 after 25 overs. In our pursuit of batting points, our run rate was certainly not an issue, but the fact we were five wickets down made it doubtful that we would make much more than 200, let alone get several batting points.

A lot surely now depended on the sixth wicket partnership between Eski and John Simpson. The runs continued coming quickly, but our momentum was disrupted by a 25-miute delay due to a combination of light rain and bad light. A lot of spectators assumed that an early lunch would be called, but the players eventually returned. On the resumption, it look like Eski would mark his first County Championship appearance of the season with a century, but he edged Timm van der Gugten to Cooke after scoring 94 off 91 balls to take the score to 164-6.

The announcer and scoreboard both said that Tom Helm was now in so had been promoted to 8, which felt believable after his 52 last week at Derby, but after a couple of overs, the scoreboard was corrected to say that Ollie Rayner was in. Simmo and Rayner looked like talking us to lunch 6 wickets down, but after they scored 25 in 3.5 overs, the final over of the session saw Simmo edge van der Gugten to slip fielder Nick Selman after making 38 of 53 to bring finally Helm to the crease. Helm hit his first ball for four, but was caught off the last ball of the session, meaning we went to lunch on 193-8.

Unfortunately, we were unable to get the seven runs required for a first batting point, as Rayner was bowled by van der Gugten, and Tim Murtagh was caught by Selman off Hogan to give van der Gugten and Hogan four wickets apiece to leave us all out for 194.


After the 26 overs we had faced in the day saw us add 130 for the loss of six wickets, I was hopeful that Glamorgan's reply would also see wickets falling with regularity. Murtagh opened the bowling from the Nursery end, with Tom Barber preferred to Tom Helm at the Pavilion end. The runs were hard to come by, with only 17 coming from the first 6.5 overs, before Jack Murphy fell lbw to Murtagh. This brought in Australia's Shaun Marsh, but his presence didn't improve the run rate, as he was too lbw to Murtagh to leave Glamorgan 23-2. The following over saw Selman hit successive fours off Helm to take his contribution to 21 out of his team's 31, but after the over after that started with Kiran Carlson getting a 3, Selman was bowled by Murtagh to give us our first bowling point.
The announcer introduced the new batsman as Aneurin Bevan, before correcting himself to say that the batsman was Aneurin Donald. The confusion was understandable, as the batsman batted like Michael Bevan when scoring the joint-fastest-ever first-class double hundred off 123 balls v Derbyshire at Colwyn Bay in 2016, but today he batted more like Allan Donald and was caught by Simmo off his first ball, meaning that Murtagh had taken all four wickets. However, only eight more balls were possible before the umpires took the players off for bad light with Glamorgan 38-4, and an early tea was called. I am not sure if the decision to take the players off was influenced by the fact that Barber and Helm both hit the batsman on the helmet.

It seemed doubtful that the light would improve sufficiently for play to resume, while it can't have helped that umpire Ian 'Gunner' Gould was surely keen to find somewhere to watch Manchester United v Arsenal. I waited with Lower Mound in the warmth of the Pelham restaurant in the Warner stand. As the groundstaff were putting more covers on, the chances of a resumption were clearly not improving, so we went home just after 4:00pm. We arrived home to find that play had been called-off without us missing any play, so we made the right decision to leave early.

Due to the likelihood of a washout tomorrow, perhaps it would have been a good idea to have declared overnight, as our decision to bat out did not earn us any batting points, deprived us of time to earn bowling points, and allowed Glamorgan to gain two more bowling points.

We got our first look at Barber in first-class cricket. He seems to have the pace to scare batsmen, although he probably needs to add the other facets of being a fast bowler. The fact he bowled two wides (including one with his first delivery) meant he lived up to his reputation of being erratic. However, I am confident that he will only get better in time.

I am not sure why Stirlo didn't field, but apart from that, I would like to think that we will end this match without anyone injured or needing to be rested next week v Sussex at Hove.

As teams can't be deducted points for a slow over rate if they spend less than four hours in the field during the match, neither team needs to worry about their over rate in this match.