Here's To You Mr Robinson as Max Holden Graduates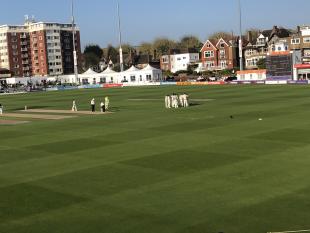 Serious conversation
By Barmy Kev
May 4 2018
Barmy Kev reports on day of whineing with Middlesex ending up on top.
One consoling factor when we were relegated was the prospect of a trip to Hove as opposed to the (it takes ) Ages Bowel. The train journey to Hove takes just over an hour from Victoria there is a pleasant short walk to the ground that has a proper cricket feel about it.

I arrived 11.10 surprised to see us batting not going for uncontested toss. I'm glad on arrival we had no wickets down. But 5 minutes later Gubbins middle stump was dislodged. Soon after one moved away and Robbo caught behind. Eski having survived two drop catches and a strong LBW appeal turned down, then the ball after Robinson begged and eventually the umpire gave him out for a useful 38. We were trying to work out whether Cartwright's score of 4 improved his average. The big blow, just before lunch Mala given LBW after more long pleading by umpire Blades. A close shave I quipped, not funny.
A Michelle before lunch- Here's to you Mr Robinson. Oh well we are doing better than Yorkshire. Time for liquid refreshment at the Cricketers pub with our score 81-5

The lunch break lasted longer than expected due to excessive whineing. Some play was missed and we progressed to 113-5. In fact recovery on until Simmo gave Burgess some catching practice in the deep. Harris had a life that was worth 1 run. We should have stayed in the pub.
Max bought up his 50, we are rebuilding but 200 unlikely especially when Ollie R out LBW bowled Ollie R.
It's now a case of whether we are going to double our batting bonus points for the season so far. Biggest cheer of day when the Middlesex faithful were predicting us all out for 198; we made it to 200.

After tea two more dropped catches. Murtagh out trying one to many baseball like shots and Barber achieved 3 more than expected. Holden left on a chanceless 84 not out. We were suddenly disappointed we did not make our 2nd batting point. Still 230 most of us would have settled for. I calculated at least 6 Sussex dropped catches. Robinson achieved 7 Jammy wickets

Sussex in response. Barber was spraying it to give Simmo diving practice. Murts line and length achieved two early wickets with Salt dispensed spectacularly caught by Ollie in slips. Harry picked up two more with the sight of Luke Wright off stump flying a pleasure. Barber continued to bowl at great pace with massive slip cordon to prevent byes. Who cares 60-4 we are in strong position.
Anyone for crazy golf Monday?