Finch is a Birden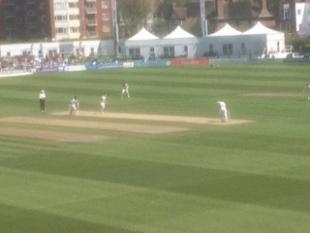 Go Harry
By Rogers and Out
May 5 2018
Rogers and Out reports on a frustrarting day for Middlesex. Far too many late order quick runs and fat to slow service at the bar. There is some hope at the end.
An unbeaten 55 run partnership between Nick Gubbins and Dawid Malan was a high point for us on a day when we were generally second best at sunny Hove.

James Harris also did well in taking 5/86 and Hilton Cartwright bowled with credit and excelled in the field.

However, it was the fine batting of Harry Finch, who made a well deserved century, aided by good contributions from Michael Burgess and Ollie Robinson, that enabled our hosts to enjoy a 93 run first innings lead.

Finch and night watchman Danny Briggs continued to thwart our pace trio at the start of day two. Although the occasional delivery caused the batsman concern, Tom Barber was far too wayward, allowing Finch and Briggs the luxury of not having to play too many shots.

It was Hilton Cartwright who eventually made the breakthrough in his first over, when he trapped Briggs leg before for 23, ending a useful 56 run partnership on 106/5.

Finch, however, continued serenely and brought up his fifty in explosive fashion, pulling the hapless Barber over midwicket for six.

Cartwright struck again in the 43rd over, bowling Ben Brown for seven. This brought Michael Burgess to the crease and although he rode his luck at times, he was brutal with anything outside off stump, cutting several deliveries to the boundary with power.

Lunch was taken with both Finch and Burgess well set although Ollie Rayner caused them both problems when he eventually came on to bowl.

An annoying twenty minutes was spent in the usually good Sussex Cricketer watching two barmen attempting to serve a lot of thirsty, disgruntled punters, me included. I gave up and partook of refreshment in the bar under the stand.

The partnership of Finch and Burgess was nearing a century, when fine work by Ollie and Robbo saw the dismissal of Burgess for 45. He edged a Harris delivery high to second slip and the height of Rayner enabled him to parry the ball to Sam who held on at first slip.

Finch soon registered his first County Championship hundred off the bowling of Rayner, but James Harris ended his excellent innings soon after with a ball that kept low and he was leg before for 103. Sussex on 242/8.

If we thought we had broken the back of the Sussex innings, we were sadly mistaken as Robinson, Wiese and Garton all made hay, with the seven wicket hero from our first innings helping himself to a half century.

Tea was delayed as Sussex were nine wickets down, and we could not take that one wicket in the extra half hour. Ironically, James Harris dispatched Robinson with the very first ball after tea, and Sussex had made a creditable 323.

We were left with over twenty overs to see out the day and the unfortunate Sam Robson, who cannot buy a run at present, clipped Robinson to Briggs at midwicket who took a straightforward catch.

Things were to get even worse when the in form Stevie Eskinazi got a thin edge to a Wiese delivery and was caught behind by Brown.

We were now 9/2 and in serious trouble. However, captain Malan came in and looked pretty good, stroking several fine shots to the boundary. Nick Gubbins was less fluent, but battled away and the only danger was in the very last over, when a mix up left both batsmen at the same end. Fortunately for us, Sussex made a hash of it and Gubbo was able to make his ground.

We ended the day on 64/2, trailing by 29 runs. It is going to take a big effort to keep alive in this game, and I believe the two left handers currently at the crease will have to play a major role if we are to have any chance.