Glous try to Dent Middlesex chances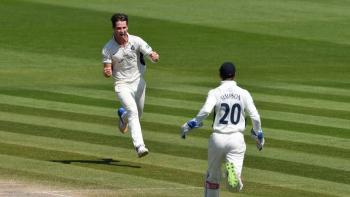 Hilton Towers
By Haringey Racer
May 13 2018
Haringey Racer provides a full report on Middlesex efforts to push on for a victory
When I went to bed last night the Met Office website was forecasting a 60% chance of light rain for much of Sunday morning. So it was a pleasant surprise on waking to throw back the curtains and see just thin, high, clouds and to check the forecast again and find that it had improved considerably overnight. The chance of rain at Lord's varying from 10% to "less than 5%" (the latter being Met-speak for we don't think it will rain but we're covering ourselves).
With Benny Howell unable to open, having been off the field for the whole of yesterday's play, James Bracey opened the Gloucestershire innings alongside Chris Dent with the sun just starting to peep through the high cloud. Bracey rode his luck early on, flashing an attempted cut over the slips, surviving a confident appeal for a catch behind (which umpire Blades indicated had brushed the batsman's ribs and not the bat he was trying to lift out of harm's way) and an edge between 3rdslip and gully, all three off Steve Finn.
Chris Dent then edged between slip and gully, ducked into a bouncer which hit some part of his body and looped to Simpson behind the stumps, and survived a very confident appeal for lbw all in the same Finn over. Finn's reaction to the final decision may well have landed him in hot water as the umpires spoke to Dawid Malan after the following over and Steve O'Shaughnessy appeared to be making copious notes in his little black book.
James Harris replaced Tom Helm and in the first over of the spell Helm managed what he had failed to do in his own spell and uprooted the middle stump from fine leg as Dent just completed a risky second run. In Harris's next over Sam Robson dropped Bracey (18) at slip. Robson had his back to me but the chance seemed straightforward enough and he just failed to hang on at the second attempt.
The 50 came in the 17th over with the first of two fours by Dent off Harris, one through midwicket, the other a sumptuous cover drive. Next over Bracey pulled Cartwright high over midwicket for 4 leading Middlesex to try to get the ball changed, claiming the impact with the fence had damaged it. The umpires, however, weren't convinced. The mood wasn't helped next over by an inside edge from Dent past leg stump followed by an outside edge just short of the slips.
The innings turned on its head in the 20thover. First Bracey edged Cartwright to Simpson for 28, after which the umpires did change the ball. Then, off the final delivery, Gareth Roderick was lbw to a ball that seemed to be heading towards leg stump before straightening to pin him lbw. 72-0 had suddenly become 72-2.
Dent reached his fifty a few overs later, but not before surviving another very confident lbw appeal from Cartwright. Then Ollie Rayner came on, possibly because the over rate had just dropped to minus 2, and Graeme van Buuren (6) obligingly cut the first ball into Simpson's gloves. 90-3. Jack Taylor got into a bit of a tangle as a Finn bouncer followed him down the legside but he had kept his eye on the ball and avoided being hit. Soon afterwards he tried to lift Rayner over mid-on; he succeeded but only just cleared the diving Cartwright. The session finished with another strong lbw appeal, this time by Rayner against Dent, and lunch was taken at 107-3.
After the restart the over rate had improved to the dizzy heights of plus 1. Taylor uppercut Finn to the third man boundary before the same bowler removed him lbw to one that nipped down the slope. Umpire Blades thought for a considerable time before raising the finger and Taylor looked less than pleased with the decision. Dent then had to dig out a good yorker from Harris who, along with Finn, was giving the batsmen plenty to think about. Helm replaced Finn and in the second over of the spell Dent (66) edged to second slip where Malan (deputising for Rayner who had left the field briefly) took a comfortable catch. 130-5. This brought Howell to the wicket. I don't know what had been wrong with him but he seemed OK – at any rate he didn't need a runner. At this point the scoreboard was a mass of H's; Harris and Helm bowling to Higgins and Howell. Higgins survived an lbw shout and at this point a latecomer arrived, looked round for his mate, decided to ring him and the realised the mate was sitting 13 (I counted) seats away, in the same row and with only one other spectator between the two of them.
Higgins the tried to fend off a lifter from Helm but only succeeded in gloving the ball towards short midwicket for a caught and bowled. 141-6 and now the tail was exposed. Would we let them escape? No, was the answer. Noema-Barnett inside-edged Helm and was caught by Simpson diving down the legside (153-7). Howell edged Finn off the shoulder of the bat, the ball dropping just short of fine leg (who may have been a fraction late sighting the ball), Craig Miles dug out a yorker, then Howell survived another appeal for a catch at the wicket and Miles had an airy waft outside off stump without making contact. Finn's ears were definitely emitting more steam by this point.
Finn is a teammate so I'm sure he was quite happy to be relieved by Cartwright and immediately see Miles clip the ball straight to Eoin Morgan at midwicket. 185-8 became 199-9 as Cartwright removed Worrall lbw on what would have been the stroke of tea. Howell and Matt Taylor almost saw out the whole of the extra half hour, taking the score to 210 before Howell tried to loft Rayner over mid-on and was well caught by Cartwright. Rayner had take a wicket with the first and last balls of his 15.5 overs and conceded only 23 runs, while Cartwright had 4 for 33 off 11 overs, Helm 3 for 48 and Finn 1-54. Quite how Harris wasn't amongst the wickets is a mystery. It certainly wasn't for a lack of "putting the ball in the right areas". Oh, and the over rate by now was plus 2.
This left 31 overs in the final session and none of the bowlers had bowled an excessive amount so I don't suppose the decision to enforce the follow-on took too much trouble. Finn opened the bowling; Dent hit the first ball for four, then edged the fourth just short of second slip. In his next over he had two big lbw shouts against Howell (now able to resume his position as opener). Helm took the other end and immediately appeared to be suffering a niggle which eventually saw him leave the field for around 25 minutes. Cartwright replaced him and immediately forced Dent to dig out another yorker.
Finn then forced Howell to do likewise before he was replaced by Harris (the announcer adding to his collection of gaffes by calling him "Dave". "Come on Rodders" shouted someone from the crowd). Howell edged Cartwright just out of reach of a leaping and diving Rayner – it would have been right up there with his best if he'd managed to reach it. Rayner then replaced Cartwright and almost had Dent immediately, an edge looping just over Robson at slip – again it would have been a good catch if he'd taken it. Howell was perilously close to being bowled or lbw to Harris, just being saved by getting an edge, then Dent edged Harris just short of Rayner at second slip.
Harris finally got rewarded for his efforts as Howell tried to force through the offside without much foot movement and dragged on (49-1). Dent followed soon afterwards caught behind off the first ball of a new Helm spell (54-2). Roderick and Bracey saw Gloucestershire to the close at 66-2 although not without alarm: Roderick played the ball firmly into Eskinazi's midriff at short leg – no criticism from me that he couldn't react in time –and then survived a huge lbw appeal that was turned down and the resulting runs given to the batsman. The bowler was Rayner on both occasions and he didn't seem happy about the second incident.
So tomorrow sees another 179 runs needed for the visitors to avoid an innings defeat with eight wickets left and the weather forecast looking good. Should be good viewing.