A Brace of wickets for Middx and Bracey of Runs for Glous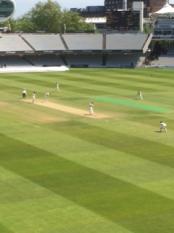 When Harry met Roerick
By Rogers and Out
May 14 2018
Rogers and Out reports on a frustrating day for Middlesex.
21 year old James Bracey's unbeaten century anchored Gloucestershire to a comfortable draw as Middlesex endured a day of frustration at Lord's on a pitch that possessed no demons.

Bracey's 125 not out came from 271 balls as the left hander kept our attack at bay with relative ease.

Bracey and Gareth Roderick commenced the day on 68/2 and reached lunch without any great problems, apart from a couple of LBW shouts, Steven Finn and Ollie Rayner the bowlers involved.

Lunch revolved around a discussion with an old chum about the glory days of Ruislip Manor FC, and away trips to the high spots of Essex, such as Purfleet, Aveley and Tilbury, plus the club's only foray into Europe, a 3-0 defeat at Fermoy, County Cork post season in 1997.

Just as Roderick and Bracey seemed set for a century partnership, James Harris struck from the Nursery end, having the Gloucester 'keeper caught well at second slip by Ollie for 48.

Bracey soon clocked up a well merited fifty and new batsman Jack Taylor looked untroubled too. However, he was fortunate when Tom Helm touched Bracey's drive on to the stumps at the non-striker's end, only to be denied the decision by umpire Blades, who must have been unsighted due to taking evasive action.

Taylor, like Roderick, looked nailed on for a half century when he seemed to be unsettled by a couple of deliveries from Tom Helm. Harry took full advantage of his indecisiveness in the next over, and Taylor played on to a full delivery for 41.

This was to be as good as it got for us, and Bracey registered three figures glancing Cartwright fine down the leg side for a boundary.

Hilton could not replicate his wicket taking of the previous day, and the new ball made no difference. Hands were shaken just after 5 p.m with Gloucestershire on 326/4 after the novelty of two Sam Robson overs.

So we lie in fifth place in Division Two, 31 points behind leaders Warwickshire and 16 adrift of Kent in second place, both of whom have played a game less than us.

Much hard work will be required when the competition resumes in June for us to push our way into the promotion frame.