Our Tom Toms send Middlesex the wrong way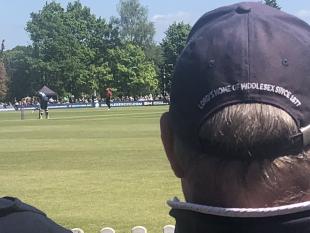 Whatever?
By Barmy Kev
May 17 2018
Barmy Kev reports on a heavy defeat for Middlesex and clutching at straws for positives.
This is anew competition for us. We have fresh hope after most disappointing start to our red ball season.

I meet up with Rod Ed on his day trip from Edinburgh. In front of the pavilion it's a semi Southport reunion. Our spirits are high although not in the mood for re enacting our Shaking Stevens moments from that evening.

More importantly, we are off to a flyer. I believe it was something like 32-0 from 4. Then we got bogged down when slower bowlers on. First wicket down at 72 a spectacular boundary catch saw end of Eski. This turned into 3 wickets lost for 7. Then run rate was strangled. Gubbo was really struggling before he reached his 50. After some consolidation half way mark we are 128-3. 300 still a possibility

I made the mistake of going to bar and Cartwright wearing Helm on his back is LBW looked high from my view. Simmo was caught spectacularly by Chopra. Moggie soon followed LBW. 35 overs 184-6 and we are down to the tail with Helm in at 8. 300 out of range and now targeting an improbable 250.

It just so happened a useful stand built up by Helm and Franco. This was broken when Rod Ed suggested we are on a verge of 50 partnership. Complaint of day WTF is Finn doing at 9. This was followed by shot of day from HifI a superb square cut for 4 a further sublime 4, his 10 runs I described this as a captains innings. We made it to 250 we would settle for at one stage. Two wickets at the death with no more added. During walk round the ground opinions varied were we are between 50-170 short.

An early wicket for Tom Helm. The chant was towards Cartwright "there's only 2 Tom Helms". Turning point soon after (turn away from this report if you have a nervous sisposition) . I was celebrating a great catch in the deep, with fielder throwing it down, me not realising this was a free hit. Next over from Finn 2 maybe 3 drop catches the dolly one from Barber, don't ask, I said don't ask. Had we taken the 2nd wicket early on who knows.

After that Essex were batting with ease and game very painfully was slipping away from us. Tom Westley achieved a century . Tom Barber was easy pickings and the two Tom Helms were not much better.
Some comical, most embarassing fielding lapses. This unlike me, when having a day at cricket in the sun, I left before the end to spare myself.

Let's take some positives. Deep breath, The company was good, our 2nd eleven won at Southend and the football season starts again soon I think. Matron!