Stirling is at a High Rate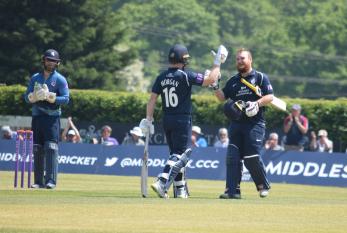 Stirling Work
By Fozzie
May 21 2018
Fozzie provides a comprehensive report on a Middlesex win and describes how this was not as straight forward as it seemed. Thank to Darren Gosling for some superb action shots.
On my way to Radlett I remembered the ill-fated T20 double-header at Lord's a few years back, at which back-to-back defeats (the first of which was by Essex, coincidentally) effectively ended our campaign just as it began. Would the Radlett double-header do the same for our Royal London Cup campaign? It was a depressing thought.
But doom and gloom was put to one side on arrival at Radlett, where a good-sized crowd was enjoying the bright sunshine and picturesque surroundings. There was only one change from the Essex game, with Nathan Sowter replacing Tom Barber. Hopefully Tom Barber's time will come, but including a second spinner seemed the right move and raised hopes. For Kent, Harry Podmore was not included, though they were captained by another of our former players, Joe Denly.
Middlesex batted first, as on Thursday, but this time with Paul Sterling opening with Gubbo. There can be few things more guaranteed to cheer spectators than watching Sterlo on song on a sunny day, and he quickly set to work, launching a Claydon delivery over the trees into the car park. A Matt Henry over started disastrously with 6 no balls as a bouncer soared over the wicket-keeper's head to the boundary, and then got worse as Sterlo clubbed him for 4 and another 6, this time over the trees by the railway. Network Rail have been busily cutting back trees near railway lines on the grounds that they pose a threat to trains, but when Sterlo is batting they must be grateful for any protection that the trees provide.
Meanwhile Gubbo was also looking in touch with consecutive beautiful drives for 4 off Darren Stevens. What a finely-matched opening partnership they look: an elegant stroke-playing left-hander alongside a big-hitting right-hander. However, at 63 in the 8thover Gubbo was caught behind – a good start, but then that was also the case against Essex…In fact Stevens and Claydon now started to exercise some control, and it took another 10 overs before the hundred was reached. Even though the introduction of the second-string bowlers saw the scoring rate push on, it was slightly surprising to see that Stirlo and Eski had put on a century partnership, but at that point Denly decided to see what he could offer and Eski promptly popped up a catch.
Eoin Morgan started cautiously, unsuccessfully attempted a reverse sweep before he was off the mark, and then effortlessly lofted Denly for sixes in consecutive overs. In between these shots Sterlo had reached a well-deserved century.
Stirlo 100th run
He then took a bit of a breather before belting Henry for 14 off three balls, driving Stevens for 6, and then next ball being caught on the boundary attempting a repeat. He left the field to great acclaim for a 125 which should have set us up for a huge total.
There were optimists who were forecasting 400 when Sterlo and Morgan were inflicting carnage. The more sober among us snorted at that, but felt that the groundwork had been laid for 350. Even so, it wasn't wholly surprising to seasoned Middlesex watchers to find that over the course of ten overs 240-2 became 277-8, and suddenly 300 began to look unlikely.
Cartwright stupms open all hours
Finny helped Franco reach that target before being dismissed, and Franco then ended the innings with three consecutive boundaries to take us to a final total of 313 – much better than we had feared a few overs previously, but far fewer than had seemed possible earlier. I suspect that neither team felt entirely satisfied with the outcome.
Kent opened their response with a flurry of boundaries off Helm and Finn, finding the gaps in the field with ominous ease and precision to reach 39 off just 4 overs. Then a lofted shot by Crawley brought a brilliant diving catch by Nathan Sowter on the boundary, running in and holding it just above the ground. One could sense the energy and confidence generated through the whole team by this, and it was a wicket maiden for Tom Helm into the bargain. Finny responded with a maiden to the incoming Denly, who then fell caught behind in Tom's next over.
Franco and Ravi replaced the opening bowlers, and both got rewards, with Franco dismissing the dangerous Bell-Drummond with a ball that rose surprisingly sharply and Ravi bowling Blake. Ravi in particular had an excellent opening spell of 1-21 in 7 overs, and I was surprised that he wasn't kept on for his full allocation; in fact his figures suffered when he returned later for his final three overs. Meanwhile, though, Tom returned and immediately had Stevens well caught by substitute fielder James Harris on the boundary edge. 102-5, and that seemed pretty much game over.
Ravi bowling Blake for slightly more than 7 Well caught Harry eventually
As Kent consolidated I decided to leave the good viewing point I had on the car park side of the ground, which was now in shade, in order to enjoy the sunshine on the railway side. There was a good atmosphere, with the ice cream van and real ale stall doing brisk business, and it was very pleasant sitting there, though without a particularly good view of the action or the scoreboard. After a while it dawned on me that two good partnerships had actually put Kent into a position where they could force a win. Just 80 needed off just 8 overs, and with two batsmen well set – but then Middlesex got a break when a second run was attempted on an overthrow, and Cartwright's quick return achieved a run out. Very soon it was all over, as Kuhn played on to give Tom his fourth wicket and Nathan returned to dismiss numbers 10 and 11, to give him figures that may have been slightly flattering but were overall well-deserved for the energy he brought to the team.
Helm bowls Khun the crucial wicket
So, a welcome win by 70 runs which was not really as comfortable or one-sided as the scorecard would suggest. Still, there were plenty of positives, not least the fine fielding performance – in Sowter, Gubbo, Eski and Cartwright we have a quartet of excellent fielders in the deep. And hopefully Sterlo's innings will be just the first of many!