Here Trego again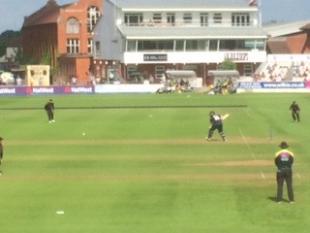 Iteland's no.1
By Rogers and Out
May 27 2018
Rogers and Out describes a day of over inflated entrance, our nemesis once again haunting us and a defeat. But we end up hearing of some positive hope
Despite a valiant knock of 77 from John Simpson and some lusty strokes from the tail, we succumbed to a 53 run defeat at a surprisingly sunny Taunton.

After a decent start by us, first Peter Trego then an excellent 91 run partnership between captain Lewis Gregory and Roelof van der Merwe propelled Somerset to a score of 283, which looked around 50 runs higher than it might have been, with them struggling on 159/6 in the 32nd over.

Many of the Middlesex faithful were put off attending the game by the weather forecast, which had initially predicted storms and rain. I had already purchased rail tickets, but Saturday night's BBC TV forecast suggested little rain in the West Country, so I was quite happy to discover that play would start at 11.30, the delay being due to the wet outfield. As a consequence, the game was reduced to 49 overs per side.

I was less pleased to have to pay £25 admission fee to enter the ground, which compared unfavourably with Cardiff (£15) and Hove (£17).

We won the toss and for the first time in this year's competition, fielded first having opted to insert the opposition. Despite Johannes Myburgh's whirlwind start, Finny soon had Somerset two wickets down, with Simmo pouching both catches behind, with the scoreless Davies and Myburgh being the victims.

At 25/2, our nemesis Trego and Andrew Hildreth looked to rebuild the home team's innings and they registered a fifty run partnership. Nathan Sowter was very good in the field, saving numerous runs on the boundary, and it was his speed of thought that led to Hildreth's wicket, throwing to the bowler's end when a risky second run was foolishly attempted.

Ravi Patel bowled well from the River end with some excellent variations of pace and length. He was ably assisted by Simmo, who removed both Renshaw and Banton with a couple of nifty stumpings.

Trego ploughed on to 65 before Ravi took his third wicket, having him caught and bowled on 159/6.

However our hopes of a fourth successive 50 over victory diminished due to the batting of Gregory and van der Merwe. They took the attack to us, dispatching the ball to the boundary and over it regularly. Our fielding suffered as a result, with some disappointing fumbles adding to the ever increasing Somerset total.

Although Finny eventually dismissed van der Merwe and Tom got rid of Gregory, both to catches by Stirlo, Somerset were able to set us a target of 284 to win.

Gregory's first ball to Stirlo hit our gallant opener in the nether regions and caused him some pain. It was to his credit that he overcame this and batted bravely for his 39 runs. He was the only member of the top order to show the resolve and application which was needed to chase down the target.

Gubbo hit three sumptuous square cuts to the boundary before edging Gregory to Hildreth in the slips. Eski got a lifter from Craig Overton that he could only fence to 'keeper Davies. After a couple of firmly struck boundaries, Morgan was well caught by Hildreth at slip off a Gregory ball that he might well have left, particularly bearing in mind the game situation.

Stirlo resolutely continued despite his discomfort but it was Cartwright who was next to fall when he popped a catch to Banton at cover off Trego.

Van Meekeren brought Stirlo's 75 ball innings to an end in the 18th over, Davies taking the catch behind. When Jamie Overton's first ball castled James Franklin, we looked sunk without trace on 84/6.

John Simpson, after cautiously playing himself in, made a bold attempt to retrieve the hopeless situation with a fine innings, assisted by gritty batting from Nathan Sowter, big hitting by Finny and some good strokes by Ravi, who made his best List A score - 24 not out.

Just when it looked that the impossible might just happen, Simmo edged van Meekeren to Davies and the men from the West triumphed by 53 runs. Those of us on the 18.33 to Paddington were not too unhappy with this as the last wicket fell at 18.15.

Overall, it was disappointing to lose after a good start and a fighting finish from the lower order, but Somerset were worthy winners. The good news was that Hampshire somehow contrived to lose from a seemingly invincible position against Kent, and there will be all to play for at Merchant Taylor school on Wednesday.