For Foakes Sake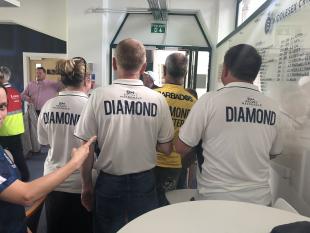 By Barmy Kev
June 3 2018
I'm leaving home 9:45 to ensure I catch the start of play. I even factored in there is no Met Line service. I didn't expect a 20 minutes queue to enter Lord's (not county) Cricket Ground, while certain people well dressed were fast tracked through this queuing process. Throughout the day I heard from five people of their accounts of VIP priority entry for MCC members, while in comparison our loyal members were treated as cattle class. Something similar happened on not such a busy day for our AGM. This is very annoying but I guess we have to put up with.

I'm here for the cricket not to moan about the obvious regarding our status at our "home" ground. I missed Gubbo out for a duck. Eski 6 off Morkel but soon after Rickety had him caught behind we are 50-2 from 8 overs. Moggie was struggling to get the ball away and just when he seemed to getting his eye in was caught behind. We knew Cartwright wouldn't last long. Simmo and Stirlo consolidate and my walk round to Warner cost a wicket. There was a minor acceleration then Stirlo spectacularly caught. When Franco followed out 200 looked unlikely. Sowter and Helm provided a late cameo. We scrambled our way to 234 having exactly batted our full 50 overs.
During interval, for those wondering about Compo He was in Coronation Gardens signing his testimonial brochure. I was tempted to turn up showing him our fixture list 1st and 2nd XI.

I was happy to spend the Surrey reply with the Diamond family and shared many toasts to our missed friend.

We have early wicket of Roy achieving 4 more than Gubbins. When recovery looked on this wicket is one for Diamond. His daughter Ellie was ordered to the toilet. Beefy needed a pint. I said Stoneman should imagine he is playing for England. He was at this time comically run out, it's 38-2. When Jacks out at 44-3 Diamond Corner had a rendition of the Seasons in the Sun song. We are up on the Vera by 30 runs. From a cricket perspective this is as good as it gets.

Foakes and Burns are building a good stand. Ravi spilled a difficult chance that could have turned game. Burns out bowled trying a Gareth Bale overhead shot. But by then the game is slipping away from us.

All we can do from our area was inappropriately swear about our inevitable defeat and treatment as tenants. While this happened Diamonds daughter Eliie offered perspective on the value of life. while still talking total bollocks, as her dad, bless, would. Foakes was out for 86,by then game was lost. We did indeed lose by 5 wickets.
Under the circumstances, the forum was not an option for us. At the Tavern we raised another glass to Diamond,
With all things considered the title of match report most appropriate.