Middlesex lose by a Short Head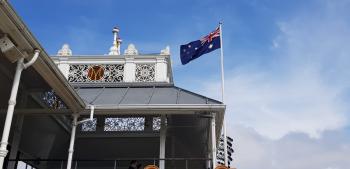 Attached by sandpaper?
By Beefy Roberts
June 10 2018
Beefy accompanied by some pictures described his day watching Middx v Aussies . He does well not to mention anything that may lead to libel action against MTWD
At 9.40 there is easy entry into Lord's. I'm suited up in the Long Room. Ropes in place to keep the crowds back. Top Tier of Pav very busy. Aussies doing a new varied routine all players opposite each other wearing baseball gloves to catch.

Practicising for 100 ball cricket
Aussies win toss are batting with their flag not made from sandpaper flying high. Short and Head are off to a flyer and questions were being asked about a declaration.

The Rabbit nearly ran Short out from spectacular fielding. Soon after he made a superb one handed diving catch off the bowling of Barber to dismiss him. One of the best catches I have ever seen.

As the convicts build a 50 partnership I'm off to the Bowlers Bar Facilities are running late due to an unscheduled visit to Milton Keynes. I eventually had a hot beef roll and salad for £10.50 and supped 4 pints of Razorback. This all during a wicket less 25 over spell where all we had to show was dropped dolly catch.

View from Bowlers Bar

Back from my seat and Aussie closed at 283-6 with a Travis Head ton. Max Holden bowled tightly, while Cartwright bowled for Australia.

From the top tier of the pavilion Holden and Gubbo are opening while the Aussies around me are enjoying a picnic. There is someone dressed as a stick of rock with his pink and white jacket and his MCC socks. There is an orgasmic four from Gubbo a straight drive towards the pavilion. Then it's 48-1 he is caught and bowled by Neser one handed but not as good as The Rabbit catch.
Agar playing against his own County has Eski out from let's say not the best-shot selection and we are 68-2. We seem out of it when Scott out middle stump has gone playing across the line. Cartwright 1st ball huge huge appeal from all his teammates not out. The moment he reaches double figures we need 199 off 199 balls so the scoreboard says.
I'm wondering if the two Richardson's playing are brothers, which is unlikely as one was born South Australia and other Perth. With Holden's run a ball 50 and 50 partnership we have a chance. Then Cartwright out for 31 121-4 it all went wrong. I got a beer and it's 140-5. At 170-7 I have given up reporting. We lost by 100 runs.


After game in the busy Tavern no Aussie players but plenty of fans. The team bus was seen departing from the Grace Gates with company name Goodwin's so can't be confused with ours.