The times they are a changing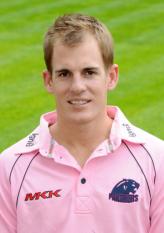 Nice to see him again
By London Leprechaun
June 20 2018
London Leprecahuan reports on a tough first day at Leicester. Not just for players but supporters too judging by the travelogue going along with the cricket. With a trip down memory lane as well you may find the cricket bits hard to spot. But that maybe just as well.
I have two contrasting memories of recentish visits to Leicester. Not sure of the year but the first one was getting off the train to a grey cold, drizzly sort of day, and spending an hour or so in a coffee shop in an uninspiring city centre before the drizzly rain turned to real rain and I came home listening to a Test match at Lord's where play had started even after the playing area had turned to a lake.
The other memory is of a golden late summer day in 2011 . . . . you will remember how that day panned out, and what it eventually led to on another golden late summer's day in 2016. But how quickly times change. Our captain on that happy day is now playing for Leicestershire; two of our heroes on the day are at Hampshire – one we hope not for long – and our captain on that other glorious day is quite possibly going to be at Radlett for the 2nd XI final tomorrow.
So what kind of day will this third visit bring. Well it started in London with the cold, slightly drizzly sort of day. On the train it started to turn into golden sunshine with rivers and fields and grazing sheep looking lovely. As we approached Leicester it turned cold and drizzly again. I got the first hour or so intermittently through the BBC scores and the commentary so heard Leicester batting – after a toss and reaching 25/2. Good toss to lose I though at that point, wondering why we had wanted to bat. At which score, as the train pulled in, they came off and I came out of the station to another grey, cold, drizzly sort of day. Decision time – another coffee in the city centre which looked a little less uninspiring, then it did those many years ago – or brave it and get to the ground as it was not supposed to rain at all today. So armed with Google to walk me to the bus I did brave it. And found one of many buses that would take me to Grace Road. Just ten minutes it said, about ten stops – all easy to follow. Except that the bus did not stop at any of the stops Google said it was supposed to and the only thing that made me sure it was going the right way was the occasional sign to the cricket and eventually the sight of the floodlights – surprisingly not on as it was still grey and a little drizzly. So having got off roughly at the right stop and walking up Grace Road could I find an entrance to the ground. All I found were locked gates, and a few bus stops not in use. How can you find bus stops not in use? Eventually I passed a fence where I could have watched the cricket from the pavement but it would have been a bit cold and there was no bench to sit on; then an open gate for cars at which a friendly steward told me where the tickets were – turn right and right again. Oh, and while all this was going on we were playing again and we took a third wicket somewhere along my journey round the whole ground. Eventually I found the only open gate which was nowhere near Grace Road.
Now I know there was not a big crowd expected and it is mid week. But Leicestershire did not make it easy for spectators to get in. Although they are very friendly once you make it. And I think the best signing is in the ground itself – done for the Women's World Cup last year.
Anyhow I can't tell you a lot about the morning session because of this adventure in getting there, although 69/3 seemed a reasonable return for bowling, when we had in fact wanted to bat.
But the afternoon session was disappointing apart from the fact that the sun finally came out. Leicester looked in no great trouble; Ackerman played a real anchor role, Neil Dexter looked resolute and it was good to see him playing again. There were occasional near misses – once or two almost played on; a few going through or falling short of slips. But not enough to make us think wickets were imminent. We didn't bowl badly, but also not with real spark and the afternoon sort of drifted. Ackerman reached a solid fifty which was greeted by a Leicester supporter playing a one tone hunting horn. He also had a tambourine with him though we never heard that. Neil Dexter's fifty got the same celebration and I was not too unhappy that he reached that landmark. It was a little surprising when he edged a catch to Simmo and when another wicket fell just before tea it made the afternoon slightly more fruitful.
But the long post tea session was not that great. Ackerman was patient and well supported by Raine, especially when the manual scoreboard got stuck and his score really increased!
Ravi Patel, got some tap from Ackerman in particular – he got to his 100 with a huge six – which got at least four blasts from the hunting horn (but still nothing from the tambourine). But Ravi did take a sharp caught and bowled just before the new ball became due. Which was going to mean a very late finish – nothing to do with the over rate which was fine, but the making up of time from the rain delay, and given my adventure getting to the ground I did leave at that point. And because my phone battery had died- partly because of the adventure getting there I could not get a score until I was on the train with a plug. So I was pleased to see we had taken two more wickets with the new ball and nice to see another fifer for Murts.
So in the end it was neither a cold grey drizzly day, nor a golden one just a difficult day at the office for Middlesex and while we are by no means out of it we are going to need someone tomorrow to bat big and long and Ackerman like to put us back in control of this must win game. Assuming of course we take two quick wickets!