Close Shave as Barber is one of our heroes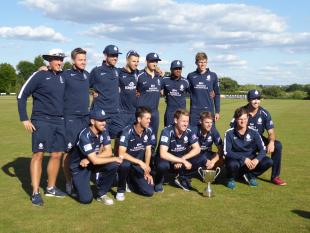 Winning team
By London Leprechaun
June 22 2018
A short mainly pictorial record of our 2nd XI triumph Radlett. Something to cheer everyone up and give hope for the future.
Arriving late at Radlett thanks to signalling problems Somerset were 80/4. We were looking good in the field, bowled tidily and they nevr got away. Highlight a tumbling caught and bowled by Sowter and a sharp run out - sorry not sure who. Scoreboard at Radlett is not quite Lord's standard. 250 a relatively gettable target.
We got off to a flier - Scott and Anderson crunching the ball everywhere; we wobbled a bit but there was some god running in between sending the ball into the hedge:
With just 30 to go and six wickets down and plenty of overs it looked good but there was an Somerset hat trick and it looked doomed.
But Tom Barber and Thilan Walallawita batted with amazing composure - and a mix of good running and some handsome boundary shots crept us up to the target. They did not look in trouble at all. A crunchiung boundary brought the scores level and the Middlesex balcony said we had won - though nobody was sure why.
Tom Barber hit the winning runs.
The pair come off to applause all round and looking pretty happy
There was a low key trophy presentation but George Scotts looked quite pleased.
And of course the team photo
The future is bright.