Hilton Towers in our Great Eskiape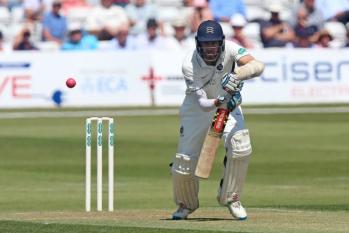 Esk in action
By The Woodpecker
June 25 2018
As build up for Kent game we hear from Richard Scott on his views on how we turned expected defeat to an unlikely victory.
Having been 194 runs behind on first innings,Middlesex dismissed the hosts for 186 second time around and chased a target of 381 on the last day thanks to leading contributions from Stevie Eskinazi (97), Hilton Cartwright (80) and James Harris (58 not out).
Richard Scott said: "The lads were awesome, from nightwatchman Ravi Patel hanging around for an hour and getting a valuable 20 early on. Stevie Eskinazi, Hilton Cartwright, Harry at the end, they all played their part.
"It's frustrating not to have been at the races on the first two days, but we were the dominant side on the last two days and showed great spirit to get over the line, to get 381 was immense.
"Full credit to the Leicestershire bowlers, they hammered away on a line and length, but generally the pitch played really well - it can't have been that bad to chase down 380!
"If we turn up and start games like we finished here we're a match for anyone in the country."