Don't Let The Sun Go Down On Me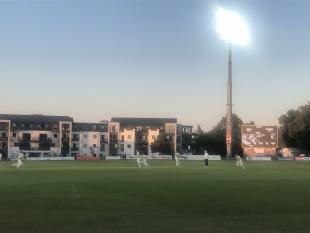 The Twilight Zone
By Barmy Kev
June 25 2018
Kev reports on a very strange day where what looked liked a good psiotion ended up as a diabolical one for Middlesex.
I'm off to Canterbury in a buoyant mood still on a high from that nerve-jangling win at Leicester. This was a game I did not expect to attend due to day night impracticalities. I then realised via high speed trains from St Pancras I can get to Canterbury in less than an hour and was able to rearrange plans to fit in attending the 1st two days. The weather was perfect slightly cooler than London but comfortable. It was also pleasing that the construction work had finished and Canterbury was restored to close to its former beauty.

I was pleased to hear Kent rested Stevens and Henry with an eye on RLC final. Their replacements I hadn't heard of. I took my seat with Kent batting assuming we uncontested the toss. It wasn't until half way through the morning session, I was made aware Kent won toss and put us in. At 59-3 I thought this was a good toss to lose. We were bowling well in not too helpful conditions but something in it for bowlers. JK struggled with his radar and was also warned for a beamer. It's 93-3 at 4pm lunchtime. I felt it was even session. Little did I know what was to follow?
After lunch 4 early wickets, JK seemed to find better control bowling uphill at 134-7 I had every reason to be optimistic. What could possibly go wrong as I was thinking as enjoying a cool refreshing cider?
Three irritating partnerships followed. First one was involving Podmore who was having fun against his old team. Tea is at 7pm at 193-8 I still felt we were doing OK. It was odd with sun still out not a cloud in the sky the floodlights were put on but these are the rules. This unknown guy whose name sounded like Rod Stewart was Sailing away. Kent reached 241, which seemed far too many but then thought I would have settled for this at start.

The spirit amongst the Middle following was good. Much to our hilarity one of our crowd says he is usually in his pyjamas at 8pm and was wondering if he would reappear here this way. Holden was put under pressure as the same Strange gentleman warns him from the boundary edge not to get out to Podmore. This we thought made Maxi even more nervous as we start our reply and many tongue in cheek comments were made.
The fun stops here. As the sun is dropping Robbo is out to one that moved away from him and he seemed to stand no chance. Eski comes out feeling very uneasy. There are chats with umpires who stand in batsman's place and have a look his view from the crease. The players are briefly called off as sun is evidently too low, which is blinding them. We are shortly back again in twilight with dew in the air. Every ball seems to have a wicket written on it. The score is 19-3. I have to leave at 8:45 to get the 9:25 from Canterbury West. The 35-minute walk I didn't check the latest, but my worst fears realised once on platform 50-6. Rod Stewart had a 5fer. By the time train embarked it was 54-9. The feedback I received indicated it was progressively more unplayable out there.
I hate making excuses, but there was a marked difference in conditions we batted under. The follow on is unlikely to be enforced. My guess is Kent will bat tomorrow until the sun goes down and here we go again. As I type I doubt I will be there to witness what I feel is a farce.